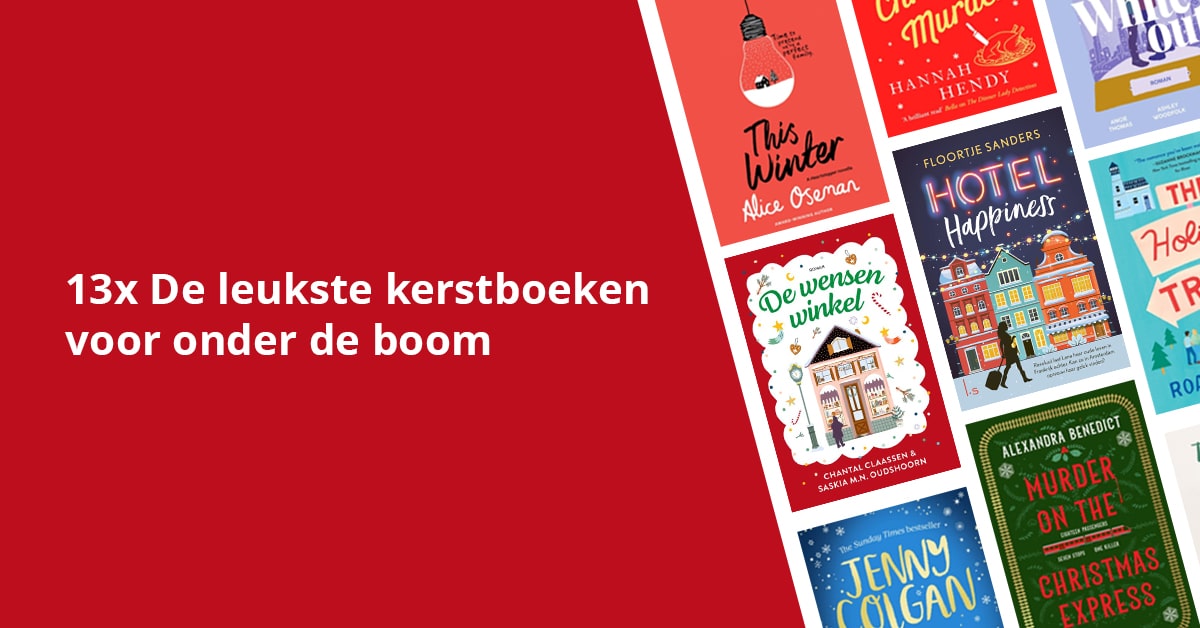 It's beginning to look a lot like Christmas… en daar horen natuurlijk kerstboeken bij! Het maakt niet uit of je dit jaar wilt wegdromen met een heerlijke romance, je wilt verdiepen in een spannende thriller of naar een andere wereld wilt met een buitenaardse high-fantasy: wij hebben in ons assortiment voor iedere lezer wel wat zitten. 
Maar goed: mocht je (net zoals ons) dan tóch willen gaan voor een heerlijk boek waar kerst centraal staat, dan raden wij de volgende dertien Nederlandse en Engelse boeken met heel ons hart aan!
In 'De wensenwinkel' van Chantal Claassen en Saskia M.N. Oudshoorn beginnen beste vriendinnen Claire en Josie een wensenwinkel. De knappe aannemer Stijn verbouwt een oude naaisalon tot een winkel, en daarna stromen de wensen al snel binnen. De winkel is zo'n groot succes dat ze meer handen nodig hebben. Het liefst die van een man… Kan de knappe soapster Jim de vriendinnen helpen?
Hotel Happiness is het eerste deel van een nieuwe tweedelige feelgoodserie van Floortje Sanders. In deze serie probeert Lana opnieuw haar geluk te vinden in Amsterdam. Halsoverkop vertrekt Lana uit haar boerderij bij het Franse Annecy als ze erachter komt dat haar vriend Julien is vreemdgegaan. Ze gaat aan de slag in hartje Amsterdam bij het gezellige Hotel Happiness, waar ze omringd wordt door een tikje excentrieke maar hartelijke collega's. Ook maakt ze kennis met Lenie uit de Jordaan, die zich als een moederkloek over Lana ontfermt. En als ze ook nog eens in de armen belandt van de aantrekkelijke Omar, wijst alles op een happy end. Maar het grote verdriet uit haar verleden heeft Lana nog geen plek gegeven. Kunnen Julien en zij écht zonder elkaar?
The perfect gift this Christmas season: a generous selection of some of the greatest festive stories of all time – now in a beautiful clothbound editionThis is a collection of the most magical, moving, chilling and surprising Christmas stories from around the world, taking us from frozen Nordic woods to glittering Paris, a New York speakeasy to an English country house, bustling Lagos to midnight mass in Rio, and even outer space. Here are classic tales from writers including Truman Capote, Shirley Jackson, Dylan Thomas, Saki and Chekhov, as well as little-known treasures such as Italo Calvino's wry sideways look at Christmas consumerism, Wolfdietrich Schnurre's story of festive ingenuity in Berlin, Selma Lagerlof's enchanted forest in Sweden, and Irene Nemerovsky's dark family portrait. Featuring santas, ghosts, trolls, unexpected guests, curmudgeons and miracles, here is Christmas as imagined by some of the greatest short story writers of all time.
For fans of Alexandria Bellefleur and Alexis Hall comes a charming, hilarious, and heartwarming LGBTQIA+ romcom about two separate couples finding love over the holidays from acclaimed author Roan Parrish! Greta Russakoff loves her tight-knit family and tiny Maine hometown, even if they don't always understand what it's like to be a lesbian living in such a small world. She desperately needs space to figure out who she is. Truman Belvedere has just had his heart crushed into a million pieces when he learned that his boyfriend of almost a year has a secret life that includes a husband and a daughter. Reeling from this discovery, all he wants is a place to lick his wounds far, far away from New Orleans. Enter Greta and Truman's mutual friend, Ramona, who facilitates a month-long house swap. Over the winter holidays, each of them will have a chance to try on a new life…and maybe fall in love with the perfect partner of their dreams. But all holidays must come to an end, and eventually Greta and Truman will have to decide whether the love they each found so far from home is worth fighting for
A thrilling chase as Sherlock Holmes is set a fiendish puzzle by Irene Adler over a snowy London Christmas, in this stunningly packaged mystery.
Sherlock Holmes's discovery of a mysterious musical score initiates a devious Christmas challenge set by Irene Adler, with clues that are all variations on the theme of 'theft without theft', such as a statue missing from a museum found hidden in the room it was taken from.
In the snowy London lead-up to Christmas, Holmes's preoccupation with the "Adler Variations" risks him neglecting the case of his new client, Norwegian arctic explorer Fridtjof Nansen, who has received a series of threats in the form of animal carcasses left on his doorstep. Could they really be gifts from a strange spirit that has pursued Nansen since the completion of his expedition to cross Greenland? And might this case somehow be related to Irene Adler's great game?
'Tis the season for gold, frankincense and murder…
It's winter in the small town of Dewstow, and Margery is preparing for her first Christmas as Summerview school's kitchen manager. She's supported by her wife, Clementine, and is trying to stay focused on the task at hand.
The pair are determined to stay out of the way of the Christmas concert planning that has gripped the rest of the staff. However, they are caught in the crossfire when the stage lights collapse at the first practice, killing Mrs Large, the music teacher.
Mrs Smith, the Head of Drama, is the prime suspect and is desperate for the Dinner Lady Detectives to clear her name. Mrs Smith is convinced that it's sabotage by her rival, Mrs Blossom, the drama teacher at Ittonvale Secondary, but there's evidence that points to her own misdeeds. Can Margery and Clementine trust their friend? And when things start to heat up in the kitchen, will they make it out in time?
A short novella based on the beloved characters from Alice Oseman's acclaimed debut novel Solitaire and graphic novel series Heartstopper – now a major Netflix series. From the author of the 2021 YA Book Prize winning Loveless. The festive season isn't always happy for Tori Spring and her brother Charlie.
And this year's going to be harder than most. I used to think that difficult was better than boring, but I know better now… I'm not going to think about the past few months, about Charlie and me, and all of the sad.
I'm going to block it all out Just for today. "Happy Christmas, " I say.
Perfect for the holidays! A brand-new heartwarming Christmas novel from the beloved New York Times bestselling author of The Bookshop on the Corner and Christmas at the Island Hotel. When the department store she works in closes for good, Carmen has perilously little cash and few options. She doesn't want to move in with her perfect sister Sofia, in Sofia's perfect house with her perfect children and her perfectly ordered Edinburgh life. Frankly, Sofia doesn't exactly want Carmen there either. Her sister has always been sarcastic and difficult. But Sofia has yet another baby on the way, a mother desperate to see her daughters get along, and a client who needs a retail assistant for his ailing bookshop, so welcoming Carmen might still have some benefits for everyone. At Sofia's behest, Carmen is thrown into the daily workings of old Mr. McCredie's ancient bookshop on the streets of the old dark city. Can she use her design skills to revamp the store and bring it back to popularity in time to benefit from Christmas shopping traffic? Can she choose between bad boy literary rock star Blair and quiet Quaker student Oke? And will she heal the rift with the most important people of all: her family?
Eighteen passengers. Seven stops. One killer. In the early hours of Christmas Eve, the sleeper train to the Highlands is derailed, along with the festive plans of its travellers. With the train stuck in snow in the middle of nowhere, a killer stalks its carriages, picking off passengers one by one. Those who sleep on the sleeper train may never wake again. Can former Met detective Roz Parker find the killer before they kill again?
Move over, Dickens—America's favorite storyteller has written a modern Christmas story for the ages.  Every year at Christmastime, Will and Ella Sullivan, and their father, Henry, come to a family agreement: Christmas is a holiday for other people. At their brownstone in Harlem, stockings go unstuffed, tinsel unstrewn, gifts unbought, mistletoe unhung, chestnuts unroasted, carols unplayed, cookies uncooked, a tree un-visible, and guests uninvited. Until guests start arriving anyway. In pairs and sixes, in sevens and tens—they keep coming. And they stay. For twelve long, hard, topsy-turvy, very messy days. That's when the Sullivans discover that those moments in life that defy hope, expectation, or even imagination, might be the best gifts of all.
True love wasn't on their holiday wish list. When Sadie and Max are selected as contestants on the famed reality singing show Starmaker, each thinks they've finally gotten their big Nashville break. But then they're paired up for duet week and stun the world with their romantic onstage chemistry. With fans going wild for #Saxie the network demands that they remain a duo on and offstage, or exit the competition. Faking a relationship until their final performance in the Starmaker holiday special shouldn't be too hard, except for one small problem–Sadie and Max can't stand each other. But with their dreams just within reach, they agree to the ruse. Will their fake relationship be exposed before they can win? Or will an unexpected trip to Banff spark real feelings by the Christmas finale?
Hartverwarmende winterliefdes
Vlak voor kerstmis is Atlanta bedekt onder een dikke laag sneeuw. Maar de warmte van ontluikende liefde zou het ijs weleens kunnen laten smelten in deze onderling verbonden verhalen, vol vreugde en sprankelende romantiek. Terwijl de stad bevriest, helpen twaalf tieners een vriendin de meest epische verontschuldiging van haar leven aan te bieden. Krijgen ze dat wel voor elkaar tijdens zo'n sneeuwstorm? Niemand is voorbereid op deze whiteout. Maar misschien kun je je ook niet voorbereiden op die magische momenten die alles veranderen… Topauteurs Nicola Yoon, Angie Thomas, Nic Stone, Dhonielle Clayton, Tiffany D. Jackson en Ashley Woodfolk sloegen na Blackout opnieuw de handen ineen en schreven samen een roman over zwarte tienerliefde, waarin alle relaties zo uniek en sprankelend zijn als sneeuwvlokken.
De Grishaverse wordt uitgebreid met een graphic novel! In 'De jongen uit het woud' leer je de Duisterling kennen voordat hij de Schaduwvlakte creëerde en hij de leider van Ravka's Tweede Leger werd. Dit boek is een prequel op de Grishaverse en speelt zich vóór 'Schim en Schaduw' af. Eryk is samen met zijn moeder al zijn hele leven op de vlucht, want ze zijn de gevaarlijkste en zeldzaamste Grisha die er bestaan. Ze worden opgejaagd door degenen die hen willen vernietigen, of juist in hun macht willen krijgen. Hun Grisha-gave moeten ze dus koste wat het kost verbergen. Maar dat blijkt zelfs na jaren oefening ontzettend ingewikkeld, en soms zelfs dodelijk.