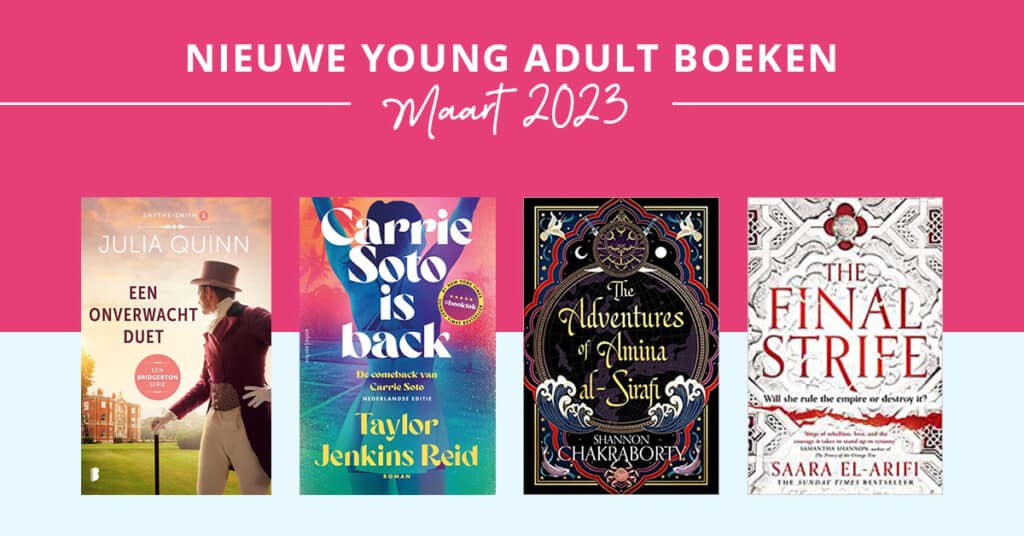 Maart was weer een maand vol boeken! Benieuwd welke boeken jij aan je TBR kunt toevoegen? Wij zetten al onze nieuwe toevoegingen voor je op een rijtje.
Elke maand posten wij de nieuwe Young Adult boeken waar jij naar uit kan kijken. Naar welk boek kijk jij het meest uit?
Amina al-Sirafi should be content. After a storied and scandalous career as one of the Indian Ocean's most notorious pirates, she's survived backstabbing rogues, vengeful merchant princes, several husbands, and one actual demon to retire peacefully with her family to a life of piety, motherhood, and absolutely nothing that hints of the supernatural.
But when she's tracked down by the obscenely wealthy mother of a former crewman, she's offered a job no bandit could refuse: retrieve her comrade's kidnapped daughter for a kingly sum. The chance to have one last adventure with her crew, do right by an old friend, and win a fortune that will secure her family's future forever? It seems like such an obvious choice that it must be God's will.
Yet the deeper Amina dives, the more it becomes alarmingly clear there's more to this job, and the girl's disappearance, than she was led to believe. For there's always risk in wanting to become a legend, to seize one last chance at glory, to savor just a bit more power… and the price might be your very soul.
Shannon Chakraborty, the bestselling author of The City of Brass, spins a new trilogy of magic and mayhem on the high seas in this tale of pirates and sorcerers, forbidden artifacts and ancient mysteries, in one woman's determined quest to seize a final chance at glory—and write her own legend.
In the first book of a visionary fantasy trilogy with its roots in the mythology of Africa and Arabia, three women band together against a cruel empire that divides people by blood. Red is the blood of the elite, of magic, of control. Blue is the blood of the poor, of workers, of the resistance. Clear is the blood of the slaves, of the crushed, of the invisible. Sylah dreams of days growing up in the resistance, being told she would spark a revolution that would free the empire from the red-blooded ruling classes' tyranny. That spark was extinguished the day she watched her family murdered before her eyes. Anoor has been told she's nothing, no one, a disappointment, by the only person who matters: her mother, the most powerful ruler in the empire. But when Sylah and Anoor meet, a fire burns between them that could consume the kingdom—and their hearts. Hassa moves through the world unseen by upper classes, so she knows what it means to be invisible. But invisibility has its uses: It can hide the most dangerous of secrets, secrets that can reignite a revolution. And when she joins forces with Sylah and Anoor, together these grains of sand will become a storm. As the empire begins a set of trials of combat and skill designed to find its new leaders, the stage is set for blood to flow, power to shift, and cities to burn. Book One of The Ending Fire Trilogy
A stunning Celtic YA fantasy adventure set in the ancient kingdom of Eire, inspired by the legend of the first true queen of Ireland, perfect for fans of Shelby Mahurin and Adrienne Young.
In the kingdom of Eire, banshees chill the air, and water-wights lurk in the rivers. But magic is outlawed by the king, and jealously hoarded by his Druid priests.
Neve is the youngest daughter of the king, and Ronan is a Druid's apprentice-turned-thief, making a living by selling stolen spells. They should be enemies, but their shared hatred of the Druids-and a dark magic that has marked them both-makes them unlikely, if uneasy, allies.
When Eire is threatened by a power struggle, Neve must seize the chance to take her rightful place on her family's throne, with the help of Ronan and the realm's most dangerous outcasts. Their journey takes them to the outskirts of Eire where magic still runs free . . . and where an outlaw and a warrior princess might carve out a future with spells and swords.
Lesley Livingston vividly reimagines Irish legends and fairytales to craft a YA fantasy adventure that will captivate readers of Brigid Kemmerer and Tricia Levenseller.
Four students. A fatal car crash. Three come out alive – and they will do anything to bury the truth. One of them was driving. One of them was high. One of them screamed. And one of them died. When one of their own is tragically killed in a car crash, Argyle Prep is full of questions. Who was at the wheel? And more importantly, who was at fault?But in a place ruled by pedigree and privilege, the answers can only come at a price. Set against the glitz and glamour of an elite LA private school The Headmaster's List, Melissa de la Cruz's first YA thriller, is an addictive whodunit perfect for fans of Gossip Girl and A Good Girl's Guide to Murder.
As for queens, they are either hated or forgotten. She already knows which option suits her best . .
. 'Vivid with fury, passion and strength, this is a fabulous myth retelling' JENNIFER SAINT 'A blaze of a novel, fiery and furious – and alight with murderous revenge' DAILY MAIL'A powerhouse of a novel. Clytemnestra's rage, heartbreak and determination radiate off the page' ELODIE HARPER'A thrilling tale of power and prophecies, and the fierce Queen who fought back at those who wronged her' COSMOPOLITAN, 'The best books to look forward to in 2023'__________Mother.
Monarch. Murderer. Magnificent.
You are born to a king, but marry a tyrant. You stand helplessly as he sacrifices your child to placate the gods. You watch him wage war on a foreign shore and comfort yourself with violent thoughts of your own.
You play the part, fooling enemies who deny you justice. Slowly, you plot. You are Clytemnestra.
But when the husband who owns you returns in triumph, what then?Acceptance or vengeance – infamy follows both. So you bide your time and wait, until you might force the gods' hands and take revenge. Until you rise.
For you understood something that the others don't. If power isn't given to you, you have to take it for yourself. A blazing novel set in the world of Ancient Greece and told through the eyes of its greatest heroine, this is a thrilling tale of power and prophecies, of hatred and love, perfect for fans of ARIADNE and THE SONG OF ACHILLES.
__________'Casati brings the blood-soaked world of Greek mythology fully alive in this powerful novel' WOMAN & HOME'A heroine of fierce spirit. With the fire and spark of Madeline Miller and the depths of Mary Renault' MANDA SCOTT'Rivals House of the Dragon in conspiracies and feminine brutality. An electrifying read' ELIZABETH FREMANTLE 'Redefines the mythical retelling genre with a warrior queen who, instead of enduring suffering, avenges it' ANNIE GARTHWAITE'A thrilling reimagining of an infamous Greek figure' RED
'Reid weet van een tenniswedstrijd een pageturner te maken, zelfs voor lezers die niets om sport geven.' – Kirkus (starred) In Carrie Soto is back vertelt Taylor Jenkins Reid het verhaal van een legendarische tennisser die een comeback maakt om haar grandslamrecord terug te winnen. Carrie Soto's fanatisme op de tennisbaan heeft haar niet populair gemaakt. Maar wanneer ze haar carrière beëindigt is ze de beste ooit: ze heeft elk record verbroken en twintig grandslamtitels gewonnen. Ze offerde er zo goed als alles voor op. Zes jaar later ziet Carrie vanaf de tribune van de US Open dat het record haar wordt afgenomen door de meedogenloze speler Nicki Chan. Dit kan ze niet accepteren: ze neemt de beslissing om een comeback te maken en het record terug te winnen. De media zijn haar echter niet goedgezind en op haar zevenendertigste is ze niet meer zo snel en zo sterk als vroeger. Zal Carrie Soto haar record terugkrijgen? Carrie Soto is back van Taylor Jenkins Reid is een ontroerend verhaal over perfectie, doorzettingsvermogen en kwetsbaarheid. 'Reids eerdere romans waren fenomenale hits, van haar nieuwste hoef je niet minder te verwachten.' – Booklist (starred) 'Reid heeft weer een dijk van een boek geschreven.'- Library Journal (starred) 'Geen zorgen als je niet van sportverhalen houdt; dit is een hartverwamende roman over een iconisch en vasthoudend vader-dochterduo.'- Time 'Prachtig. Scherp, slim en krachtig, een boek dat je om de zoveel pagina's opzij moet leggen om op adem te komen.' – Emily Henry, auteur van Stranddagboek 'Een episch verhaal over moed, uithoudingsvermorgen en de kracht van kwetsbaarheid.'- Buzzfeed
Auteur: Sarah Hawley
Verschijningsdatum: 07-03-2023
Prijs: €11,99
Mariel Spark knows not to trust a demon, especially one that wants her soul, but what's a witch to do when he won't leave her side—and she kind of doesn't want him to? Mariel Spark is prophesied to be the most powerful witch seen in centuries of the famed Spark family, but to the displeasure of her mother, she prefers baking to brewing potions and gardening to casting hexes. When a spell to summon flour goes very wrong, Mariel finds herself staring down a demon—one she inadvertently summoned for a soul bargain. Ozroth the Ruthless is a legend among demons. Powerful and merciless, he drives hard bargains to collect mortal souls. But his reputation has suffered ever since a bargain went awry—if he can strike a bargain with Mariel, he will earn back his deadly reputation. Ozroth can't leave Mariel's side until they complete a bargain, which she refuses to do (turns out some humans are attached to their souls). But the witch is funny. And curvy. And disgustingly yet endearingly cheerful. Becoming awkward roommates quickly escalates when Mariel, terrified to confess the inadvertent summoning to her mother, blurts out that she's dating Ozroth. As Ozroth and Mariel struggle with their opposing goals and maintaining a fake relationship, real attraction blooms between them. But Ozroth has a limited amount of time to strike the deal, and if Mariel gives up her soul, she'll lose all her emotions—including love—which will only spell disaster for them both.
New York Times bestselling Sayantani DasGupta brings her trademark wit and insight to this bright and funny Sense and Sensibility retelling! Eila Das is used to following her head, rather than her heart. When she meets Rahul at Rosewood, a summer camp where campers are being scouted for the hit Bridgerton-like TV show, she experiences…feelings. Between the drama of the show and the drama of the camp, Eila will have to keep her wits about her to make it through the summer. But when she has to choose between her head and her heart, what will she do?
In this lush, romantic new epic fantasy series from New York Times bestselling author Hannah Whitten, a young woman's secret power to raise the dead plunges her into the dangerous and glamorous world of the Sainted King's royal court. When Lore was thirteen, she escaped a cult in the catacombs beneath the city of Dellaire. And in the ten years since, she's lived by one rule: don't let them find you. Easier said than done, when her death magic ties her to the city. Mortem, the magic born from death, is a high-priced and illicit commodity in Dellaire, and Lore's job running poisons keeps her in food, shelter, and relative security. But when a run goes wrong and Lore's power is revealed, she's taken by the Presque Mort, a group of warrior-monks sanctioned to use Mortem working for the Sainted King. Lore fully expects a pyre, but King August has a different plan. Entire villages on the outskirts of the country have been dying overnight, seemingly at random. Lore can either use her magic to find out what's happening and who in the King's court is responsible, or die. Lore is thrust into the Sainted King's glittering court, where no one can be believed and even fewer can be trusted. Guarded by Gabriel, a duke-turned-monk, and continually running up against Bastian, August's ne'er-do-well heir, Lore tangles in politics, religion, and forbidden romance as she attempts to navigate a debauched and opulent society. But the life she left behind in the catacombs is catching up with her. And even as Lore makes her way through the Sainted court above, they might be drawing closer than she thinks.
Auteur: Julia Quinn
Verschijningsdatum: 15-03-2023
Prijs: €20,99
Honoria Smythe-Smith, de jongste kleindochter van de graaf van Winstead, speelt viool in het Smythe-Smith kwartet. Ze weet heel goed dat ze vreselijk slecht zijn. Sterker nog: ze gee­ haar neven en nichten volmondig gelijk als ze zeggen dat zij waarschijnlijk de slechtste van het stel is. Marcus Holroyd is de beste vriend van Honoria's broer Daniel, die in ballingschap lee­ in het buitenland. Marcus hee­ beloofd op Honoria te letten en neemt zijn verantwoordelijkheid zeer serieus. Maar er staat hem nogal wat te wachten wanneer Honoria naar Cambridge vertrekt, vastbesloten om tegen het einde van het seizoen te trouwen met de enige ongetrouwde Bridgerton. Als hij niet gevoelig blijkt voor haar avances is het aan Marcus om op tijd in te grijpen en haar hart te stelen voor de start van de muziekavond.
A fantasy romance, by dazzling new talent Sarah Underwood, inspired by Greek mythology and the tale of Penelope's twelve hanged maids. "A lovely, lyrical fantasy which takes the fate of the hanged maids of the Odyssey and weaves something brand new. A story overflowing with emotion and full of magic."Jennifer Saint, bestselling author of Ariadne and Elektra 'Gorgeous, tragic, and timeless, Underwood's LIES WE SING TO THE SEA makes an age-old story feel new again.
This is Greek tragedy at its best: sweeping in scope yet deeply intimate in characterization. This book will break your heart.' – Grace Li Sunday Times bestselling author of Portrait of a Thief In the cursed kingdom of Ithaca, each spring brings the hanging of twelve maidens, a gift to the vengeful Poseidon. But when Leto awakens from her death on the shore of a long-forgotten island, its enigmatic keeper Melantho tells her that there's only one way the curse can be broken.
Leto must kill the last prince of Ithaca . . .
In Lies We Sing to the Sea, debut author Sarah Underwood delivers a thrilling and breathtaking tale that will enthral readers from the very first page as they are transported to the cursed shores of Ithaca. A reclamation of a story from thousands of years ago, Lies We Sing to the Sea is about love and fate, grief and sacrifice, and, ultimately, the power we must find within.
De burgeroorlog is voorbij en er heerst eindelijk vrede in Nerefel, maar Brynn voelt zich nergens thuis en leidt een teruggetrokken leven. Ze maakt zich zorgen over haar zoon; Rodion bezit een gevaarlijke gave en wereldwijd worden magiërs vervolgd. Met de steun van de koning probeert ze zijn reputatie en erfgoed veilig te stellen, maar zodra Brynn uit de schaduw stapt, krijgt ze te maken met rivalen en onbetrouwbare edelen die de strijdbijl niet willen begraven. Sommigen lijkt het goed uit te komen dat de kleine Rodion op een dag verdwijnt in het behekste Ebbenwoud, waar kwaadaardige krachten schuilgaan Het spannende en grimmige vervolg op Vleugels van de dood, over onvoorwaardelijke liefde en in je eigen kracht leren staan. Voor young adults die van duistere sprookjes houden.