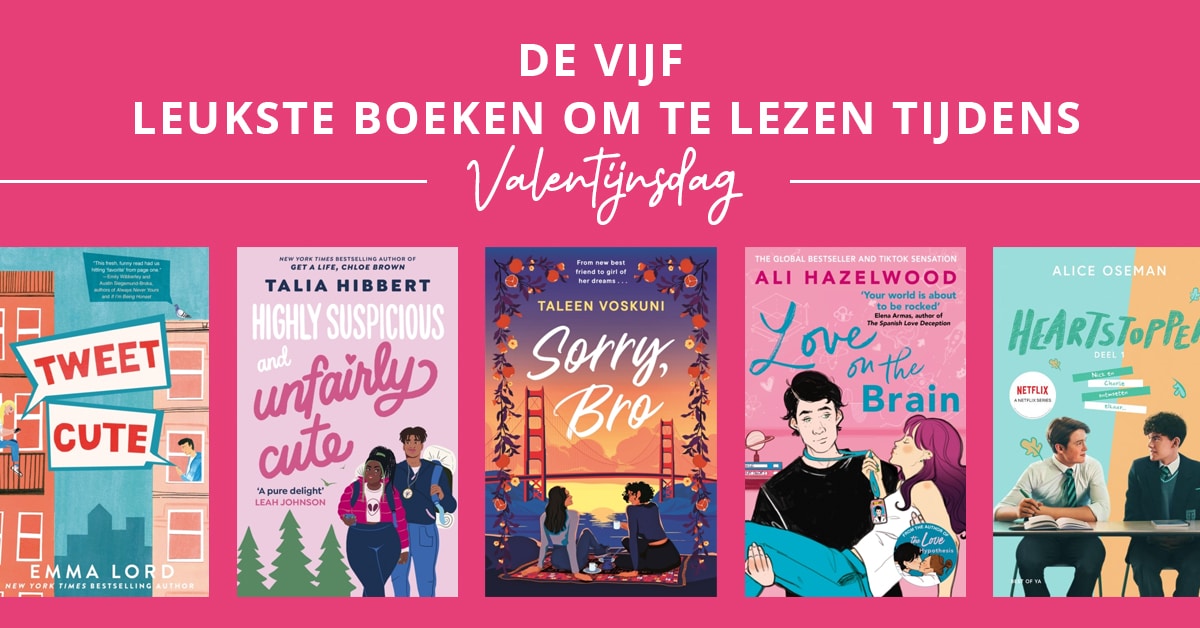 Februari staat volop in het teken van Valentijnsdag! Een heerlijk romantisch boek om bij weg te zwijmelen mag natuurlijk niet ontbreken! Om de dag van de liefde te vieren, hebben we een top 5 samengesteld met onze favoriete romance boeken waarvan we vinden dat ze niet mogen ontbreken op jouw TBR. Welk boek ga jij lezen deze Valentijnsdag?
An #ownvoices debut rom com – a bisexual My Big Fat Greek Wedding. From new best friend to girl of her dreams . . .
When Nar's boyfriend gets down on one knee and proposes to her a San Francisco bar, she realises it's time to find someone who shares her idea of romance. Enter her mother who wants Nar to settle down with a nice Armenia boy. Armed with a spreadsheet of Facebook-stalked men, she convinces Nar to attend 'Explore Armenia', a month-long festival of events in the city.
But it's not the parentally-approved playboy doctor or wealthy engineer who catches her eye – it's Erebuni, a cool and intriguing young woman fully intouch with her heritage. Suddenly, with Erebuni as her guide, the events feel like far less of a chore, and much more of an adventure. Erebuni helps Nar see the beauty of their shared culture and makes her feel understood in a way she never has before.
But there's one teeny problem: Nar's not exactly out as bisexual. A funny, heartfelt and deeply relatable rom com about family, cultural identity, queer love, and the process of self-discovery that continues into adulthood as identities evolve, all in a fresh, humorous voice. Praise for Sorry, Bro:'As I read [Sorry, Bro], I kept cackling out loud, I sometimes couldn't because I would be laughing so hard.
But underneath the humour is such an important story of love between two women and the journey to rediscovering Armenian culture and heritage.' – Jesse Q. Sutanto, author of Dial A for Aunties'Sorry Bro explores bisexuality, culture, and self-discovery through moments that will make you laugh out loud. This new writer brings a fresh take on self-identity, with a story that will capture both your heart and sense of humour.' – Diva Magazine'With this radiantly ravishing debut, Voskuni beautifully illustrates the courage it can take to be your own true self and risk everything for love.' – Booklist-Starred Review.
From the New York Times bestselling author of the Brown Sisters trilogy, comes a laugh-out-loud story about a quirky content creator and a clean-cut athlete testing their abilities to survive the great outdoors–and each other.
Bradley Graeme is pretty much perfect. He's a star football player, manages his OCD well (enough), and comes out on top in all his classes . . . except the ones he shares with his ex-best friend, Celine.
Celine Bangura is conspiracy-theory-obsessed. Social media followers eat up her takes on everything from UFOs to holiday overconsumption–yet, she's still not cool enough for the popular kids' table. Which is why Brad abandoned her for the in-crowd years ago. (At least, that's how Celine sees it.)
These days, there's nothing between them other than petty insults and academic rivalry. So when Celine signs up for a survival course in the woods, she's surprised to find Brad right beside her.
Forced to work as a team for the chance to win a grand prize, these two teens must trudge through not just mud and dirt but their messy past. And as this adventure brings them closer together, they begin to remember the good bits of their history. But has too much time passed . . . or just enough to spark a whole new kind of relationship.
Meet Pepper, swim team captain, chronic overachiever, and all-around perfectionist. Her family may be falling apart, but their massive fast-food chain is booming ― mainly thanks to Pepper, who is barely managing to juggle real life while secretly running Big League Burger's massive Twitter account.
Enter Jack, class clown and constant thorn in Pepper's side. When he isn't trying to duck out of his obscenely popular twin's shadow, he's busy working in his family's deli. His relationship with the business that holds his future might be love/hate, but when Big League Burger steals his grandma's iconic grilled cheese recipe, he'll do whatever it takes to take them down, one tweet at a time.
All's fair in love and cheese ― that is, until Pepper and Jack's spat turns into a viral Twitter war. Little do they know, while they're publicly duking it out with snarky memes and retweet battles, they're also falling for each other in real life ― on an anonymous chat app Jack built.
As their relationship deepens and their online shenanigans escalate ― people on the internet are shipping them?? ― their battle gets more and more personal, until even these two rivals can't ignore they were destined for the most unexpected, awkward, all-the-feels romance that neither of them expected.
A fresh, irresistible rom-com from debut author Emma Lord about the chances we take, the paths life can lead us on, and how love can be found in the opposite place you expected.
From the New York Times bestselling author of The Love Hypothesis comes a new STEMinist rom-com in which a scientist is forced to work on a project with her nemesis—with explosive results.
Bee Königswasser lives by a simple code: What would Marie Curie do? If NASA offered her the lead on a neuroengineering project – a literal dream come true – Marie would accept without hesitation. Duh. But the mother of modern physics never had to co-lead with Levi Ward.
Sure, Levi is attractive in a tall, dark, and piercing-eyes kind of way. But Levi made his feelings toward Bee very clear in grad school – archenemies work best employed in their own galaxies far, far away.
But when her equipment starts to go missing and the staff ignore her, Bee could swear she sees Levi softening into an ally, backing her plays, seconding her ideas… devouring her with those eyes. The possibilities have all her neurons firing.
But when it comes time to actually make a move and put her heart on the line, there's only one question that matters: What will Bee Königswasser do?
Verlies je hart aan het verhaal van Nick en Charlie
Maak kennis met Charlie, een wat onzekere jongen die sinds een jaar uit de kast is. En met Nick, een vrolijke rugbyspeler met een groot hart. Nick en Charlie komen in dezelfde klas terecht en er bloeit een hechte vriendschap tussen hen op.  Al snel valt Charlie als een blok voor Nick. Hij maakt echter geen kans, want Nick valt alleen op meisjes. Toch?
Heartstopper is nu als serie te zien op Netflix!