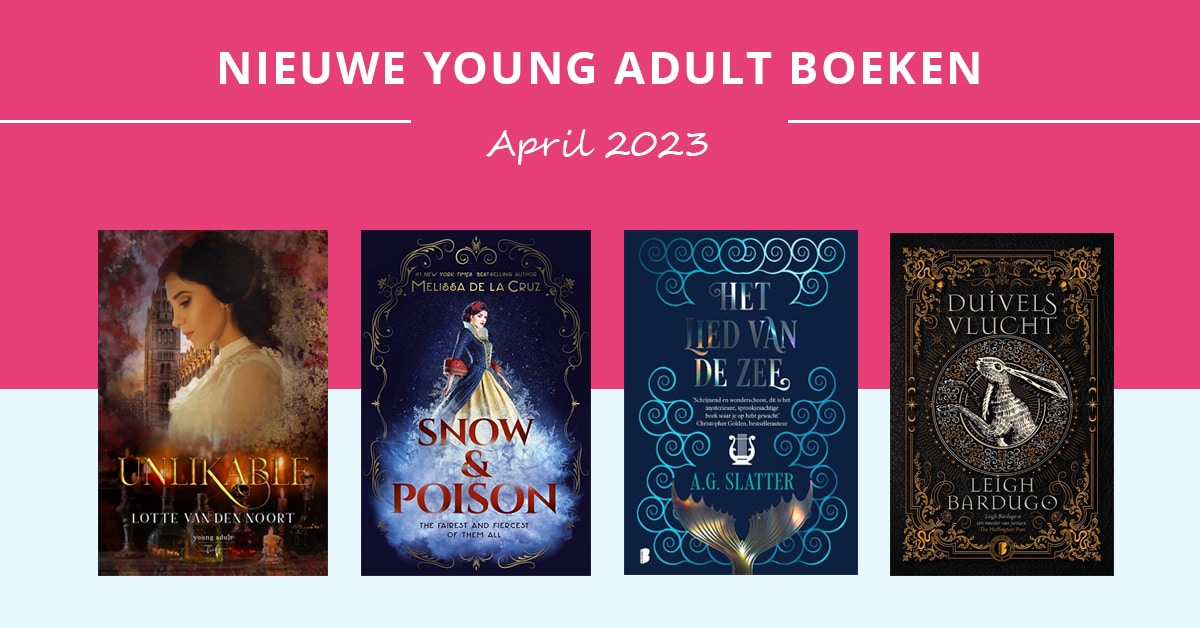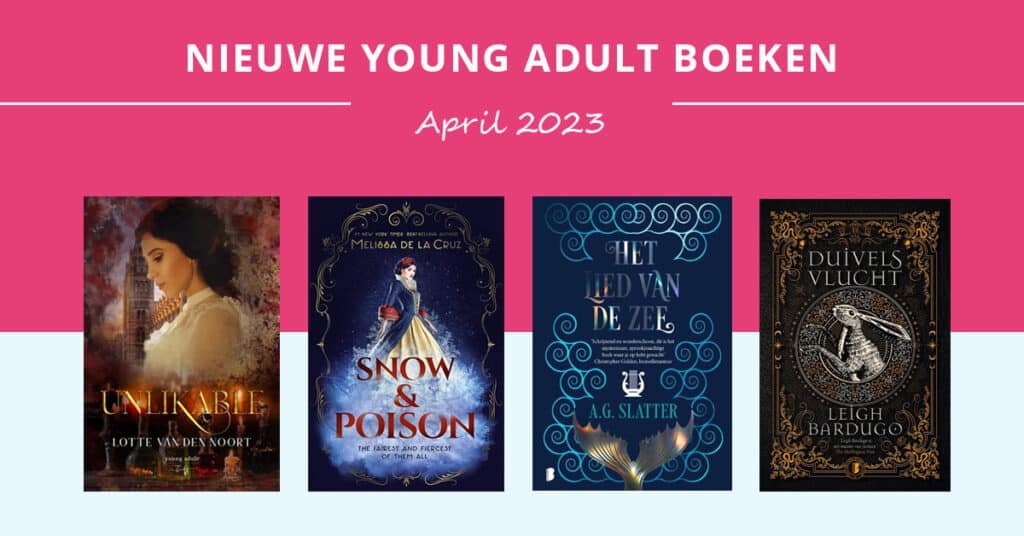 Ook in April 2023 kwamen er weer heel veel leuke Young Adult boeken uit! Benieuwd welke boeken jij aan je TBR kunt toevoegen? Wij zetten al onze nieuwe toevoegingen voor je op een rijtje.
Elke maand posten wij de nieuwe Young Adult boeken waar jij naar uit kan kijken. Naar welk boek kijk jij het meest uit?
Victoriaans Londen, 1889 Jack the Ripper was pas het begin. Londen wordt momenteel geteisterd door een nieuwe, nog gruwelijkere ripper. Junior R laat lijken achter alsof het broodkruimels zijn en lijkt geen duidelijk motief te hebben voor zijn kwaadaardige bedoelingen. Eleonora Prime verhuist tijdelijk van haar geliefde Canterbury naar Kennington, zodat haar vader de renovaties aan het huis ongestoord door kan laten gaan. Fijn vindt Eleonora dat echter niet, want nu woont ze onder één dak met de man die haar leven vanaf hun eerste ontmoeting al zuur probeert te maken: de onweerstaanbare architect, Felix Clifton. Felix wil niets van Eleonora weten en dat laat hij ook duidelijk merken, maar als je samen in een huis woont, dan is elkaar vermijden bijna onmogelijk. Ondertussen gaan de moorden in Londen van kwaad naar erger. Het wordt sterk afgeraden om vrouwen en kinderen nog langer de straat op te laten gaan. Wanneer Eleonora onbewust oog in oog met Junior R komt te staan, beseft ze nog niet dat vanaf dat punt de bloeddorstige moordenaar alleen nog maar oog voor haar zal hebben.
Deel 1 van de Dunbridge Academy-serie Sluit perfect aan bij de dark academia-trend op Instagram en TikTok Emma kon haar geluk niet op toen ze werd aangenomen op Dunbridge Academy, een exclusieve kostschool vlak bij de Schotse hoofdstad Edinburgh. Tussen deze eeuwenoude muren hebben haar ouders elkaar ooit ontmoet, en nu hoopt Emma er antwoord te vinden op de vraag waarom haar vader jaren geleden spoorloos uit haar leven is verdwenen. Daarbij kan ze geen afleiding gebruiken, maar het verraderlijke Dunbridge blijkt twee gezichten te hebben. Overdag zitten alle studenten diep over hun in leer gebonden boeken gebogen, maar tijdens de geheime middernachtsfeesten en nachtelijke uitstapjes door de oude gangen komt een andere kant van de academie naar boven. Een kant waar intrige en macht de boventoon voeren, en waar klassenoudste Henry de scepter zwaait. Kan Emma het hoofd koel houden in deze slangenkuil?
This smoldering enemies-to-lovers novel from #1 New York Times bestselling author Marie Lu puts a superstar global phenomenon and a hotshot young spy on a collision course with danger – and Cupid's arrow – in an electric new series perfect for fans of Nicola Yoon and Ally Carter. Meet Winter Young – International pop sensation, with a voice like velvet and looks that could kill. His star power has smashed records, selling out stadiums from LA to London. His rabid fans would move heaven and earth for even a glimpse of him – just imagine what they'd do to become his latest fling. Meet Sydney Cossette – Part of an elite covert ops group, Sydney joined their ranks as their youngest spy with plans to become the best agent they've ever had. An ice queen with moves as dangerous as her comebacks, Sydney picks up languages just as quickly as she breaks hearts. She's fiery, no-nonsense, and has zero time for romance – especially with a shameless flirt more used to serving sass than taking orders. When a major crime boss gifts his daughter a private concert with Winter for her birthday, Sydney and Winter's lives suddenly collide. Tasked with infiltrating the crime organization's inner circle, Sydney is assigned as Winter's bodyguard with Winter tapped to join her on the mission of a lifetime as a new spy recruit. Sydney may be the only person alive impervious to Winter's charms, but as their mission brings them closer, she's forced to admit that there's more to Winter Young than just a handsome face . . .
Thirty years ago, a young woman was murdered, a family was lynched, and New Orleans saw the greatest magical massacre in its history. In the days that followed, a throne was stolen from a queen. On the anniversary of these brutal events, Clement and Cristina Trudeau—the sixteen-year-old twin heirs to the powerful, magical, dethroned family—are mourning their father and caring for their sick mother. Until, by chance, they discover their mother isn't sick—she's cursed. Cursed by someone on the very magic council their family used to rule. Someone who will come for them next. Cristina, once a talented and dedicated practitioner of Generational magic, has given up magic for good. An ancient spell is what killed their father and she was the one who cast it. For Clement, magic is his lifeline. A distraction from his anger and pain. Even better than the random guys he hooks up with. Cristina and Clement used to be each other's most trusted confidant and friend, now they barely speak. But if they have any hope of discovering who is coming after their family, they'll have to find a way to trust each other and their family's magic, all while solving the decades-old murder that sparked the still-rising tensions between the city's magical and non-magical communities. And if they don't succeed, New Orleans may see another massacre. Or worse. Terry J. Benton-Walker's contemporary fantasy debut, Blood Debts, with powerful magical families, intergenerational curses, and deadly drama in New Orleans.
A series opener inspired by Arthurian legend and fueled by love, revenge, and pure adrenaline! Tamsin Lark didn't ask to be a Hollower. As a mortal with no magical talent, she was never meant to break into ancient crypts, or compete with sorceresses and Cunningfolk for the treasures inside. But after her thieving foster father disappeared without so much as a goodbye, it was the only way to keep herself—and her brother, Cabell—alive. Ten years later, rumors are swirling that her guardian vanished with a powerful ring from Arthurian legend. A run-in with her rival Emrys ignites Tamsin's hope that the ring could free Cabell from a curse that threatens both of them. But they aren't the only ones who covet the ring. As word spreads, greedy Hollowers start circling, and many would kill to have it for themselves. While Emrys is the last person Tamsin would choose to partner with, she needs all the help she can get to edge out her competitors in the race for the ring. Together, they dive headfirst into a vipers' nest of dark magic, exposing a deadly secret with the power to awaken ghosts of the past and shatter her last hope of saving her brother. . . .
Een zeer exclusieve, gebonden limited edition van Adrian Stones bekende De Duivel Trilogie in omnibus, ter ere van het tienjarig jubileum van de serie. Compleet met stofomslag, goudbedrukt boekblok, leeslint, twee nieuwe vierkleurenkaarten en meer. Het verhaal van Marak Viervinger begint met de verschrikkelijke Zabatha, leider en profeet van de Cataristen en de trouwste dienaar van de verboden god Cataris, die in de jeugdige Marak, een kind nog, een uitzonderlijk talent ontdekt om magie te kanaliseren. In deze wereld, waarin priesters en monniken de energie van hun god kunnen omzetten in magie, ziet Zabatha in de jeugdige Marak een pion van het kwaad die de Cataristen weleens de wereldheerschappij zou kunnen bezorgen. De arme Marak weet van niets. Erger nog, hij is voor het leven getekend en wordt nu beschouwd als een aanhanger van de gevreesde Cataristen. Hogepriesteres Verina neemt het voor hem op en Marak stemt in met haar verzoek de Proef te ondergaan, om erachter te komen hoe groot zijn talent precies is. De gevolgen blijven niet uit… Zo begint de spannende saga van Marak Viervinger.
De 1e druk van De Strijd van Twee Koninginnen verschijnt in Limited Edition met rood op snee, boekenlegger en exclusieve fanart. Deel 4 van de
Blood and Ash
-serie. 'De strijd van twee koninginnen', het spannende nieuwe deel in de Blood and Ash-serie van Jennifer L. Armentrout gaat verder waar 'Kroon van gouden beenderen' ophield. Casteel weet maar al te goed hoe sluw en slecht de Bloedkoningin is. Toch is hij verbijsterd als hij over haar gruwelijke daden hoort. Poppy is vastbesloten om de koning te bevrijden, maar heeft daarvoor de hulp nodig van de generaals van Atlantië. Beiden moeten alles in de strijd gooien om een einde te maken aan wat de Bloedkoningin is begonnen. Dat betekent dat Poppy in het reine moet komen met de profetie die ze al zo lang vreest. De profetie die laat zien wie ze werkelijk is.
In de door mannen gedomineerde wereld van neurowetenschappen is het levensmotto van Bee Königswasser duidelijk: wat zou Marie Curie doen? Als NASA haar de leiding zou geven over een droomproject zou Marie zonder aarzeling accepteren. Duh. Maar de koningin van de moderne natuurkunde hoefde nooit samen te werken met Levi Ward. Zijn gevoelens voor Bee zijn duidelijk: aartsvijanden werken het best elk in hun eigen Galaxy, far, far away. Nu ontbreekt haar apparatuur, negeert het personeel haar en is haar droomproject naar de maan. Het enige wat nog telt is: wat gaat Bee Königswasser doen?
With a delicate foiled cover, exclusive board and sprayed edge design, as well as an exclusive interview with Colleen and her mother, don't miss this beautiful collector's edition. Lily hasn't always had it easy, but that's never stopped her from working hard for the life she wants.
She's come a long way from the small town where she grew up-she graduated from college, moved to Boston, and started her own business. And when she feels a spark with a gorgeous neurosurgeon named Ryle Kincaid, everything in Lily's life seems too good to be true. Ryle is assertive, stubborn, maybe even a little arrogant.
He's also sensitive, brilliant, and has a total soft spot for Lily. And the way he looks in scrubs certainly doesn't hurt. Lily can't get him out of her head.
But Ryle's complete aversion to relationships is disturbing. Even as Lily finds herself becoming the exception to his "no dating" rule, she can't help but wonder what made him that way in the first place. As questions about her new relationship overwhelm her, so do thoughts of Atlas Corrigan-her first love and a link to the past she left behind.
He was her kindred spirit, her protector. When Atlas suddenly reappears, everything Lily has built with Ryle is threatened. With this bold and deeply personal novel, It Ends With Us is a heart-wrenching story and an unforgettable tale of love that comes at the ultimate price.
The feel-good read of 2023. Perfect for fans of Mike Gayle, Beth O'Leary and Alice Oseman's Heartstopper. Selected as one of the Independent's 19 debut authors set to make their mark this year 'Gentle, honest and beautifully authentic' Julietta Henderson 'Feel-good, heartwarming fiction' Holly Miller I'm totally #TeamArthurandTeddy' Heidi Swain 'A feedgood novel to inspire' My Weekly 'Uplifting and emotional' Justin Myers 'A celebration of family and love' Platinum 'Joyful, big-hearted' Freya Sampson 'Will stay with me for a VERY long time' Miranda Dickinson When 79-year-old Arthur Edwards gathers his family together to share some important news, no one is prepared for the bombshell he drops: he's gay, and after a lifetime in the closet, he's finally ready to come out.
Arthur's 21-year-old grandson, Teddy, has a secret of his own: he's also gay, and developing serious feelings for his colleague Ben. But Teddy doesn't feel ready to come out yet – especially when Arthur's announcement causes shockwaves in the family. Arthur and Teddy have always been close, and now they must navigate first loves, heartbreak, and finding their place in their community.
But can they – and their family – learn to accept who they truly are? Readers are LOVING Arthur and Teddy! 'Too often, queer literature is enjoyed only by the LGBT+ community, but this is a novel ready to be loved by the masses.' 'This book is genuinely a hug in book form.' 'The multiple relationship threads running through the story come together beautifully at the end and the book is a joy to read from start to finish!' 'What an absolutely beautiful book! Dealt with sensitive subjects really, really well and brilliantly descriptive characters.' 'I'd love to have read something like this when I was younger and finding myself.'
When two young rival journalists find love through a magical connection, they must face the depths of hell, in a war among gods, to seal their fate forever.
After centuries of sleep, the gods are warring again. But eighteen-year-old Iris Winnow just wants to hold her family together. Her mother is suffering from addiction and her brother is missing from the front lines. Her best bet is to win the columnist promotion at the Oath Gazette.
To combat her worries, Iris writes letters to her brother and slips them beneath her wardrobe door, where they vanish—into the hands of Roman Kitt, her cold and handsome rival at the paper. When he anonymously writes Iris back, the two of them forge a connection that will follow Iris all the way to the front lines of battle: for her brother, the fate of mankind, and love.
Shadow and Bone meets Lore in Rebecca Ross's Divine Rivals, an epic enemies-to-lovers fantasy novel filled with hope and heartbreak, and the unparalleled power of love.
Maude is the daughter of witches. She spent her childhood running wild with her best friend, Odette, weaving stories of girls who slayed dragons and saved princes. Then Maude grew up and lost her magic—and her best friend.
These days, magic is toothless, reduced to glamour patches and psychic energy drinks found in supermarkets and shopping malls. Odette has always hungered for forbidden, dangerous magic, and two weeks ago she went searching for it. Now she's missing, and everyone says she's dead. Everyone except Maude.
Storytelling has always been Maude's gift, so she knows all about girls who get lost in the woods. She's sure she can find Odette inside the ruins of Sicklehurst, an abandoned power plant built over an ancient magical forest—a place nobody else seems to remember is there. The danger is, no one knows what remains inside Sicklehurst, either. And every good story is sure to have a monster.
Two rival apprentice sorcerers must team up to save their teachers and protect their own magic in this lively young adult romantic adventure from the New York Times bestselling author of In Deeper Waters and So This Is Ever After. Edison Rooker isn't sure what to expect when he enters the office of Antonia Hex, the powerful sorceress who runs a call center for magical emergencies. He doesn't have much experience with hexes or curses. Heck, he doesn't even have magic. But he does have a plan—to regain the access to the magical world he lost when his grandmother passed. Antonia is…intimidating, but she gives him a job and a new name—Rook—both of which he's happy to accept. Now all Rook has to do is keep his Spell Binder, an illegal magical detection device, hidden from the Magical Consortium. And contend with Sun, the grumpy and annoyingly cute apprentice to Antonia's rival colleague, Fable. But dealing with competition isn't so bad; as Sun seems to pop up more and more, and Rook minds less and less. But when the Consortium gets wind of Rook's Spell Binder, they come for Antonia. All alone, Rook runs to the only other magical person he knows: Sun. Except Fable has also been attacked, and now Rook and Sun have no choice but to work together to get their mentors back…or face losing their magic forever.
'Ik loop geen patrouilles, ik ga niet op jacht; ik blijf gewoon dicht bij je. Jij leeft jouw leven en ik houd je veilig,' zei Tamani, terwijl hij een haarlok uit haar gezicht veegde. 'Of ik zal mijn leven geven om dat te garanderen.' Laurel heeft Tamani niet meer gezien sinds ze hem vorig jaar smeekte haar met rust te laten. Hoewel haar hart nog steeds pijn doet, is Laurel ervan overtuigd dat David voor haar de juiste keuze was. Maar net als haar leven weer een beetje normaal wordt, realiseert Laurel zich dat er een verborgen vijand op de loer ligt. Opnieuw moet Laurel zich tot Tamani wenden. Die moet haar beschermen en met raad en daad bijstaan, want het gevaar dat Avalon dit keer bedreigt is iets wat geen enkele elf voor mogelijk hield.
Blending fantasy and science fiction, N. E. Davenport's fast-paced, action-packed debut kicks off a duology of loyalty and rebellion, in which a young Black woman must survive deadly trials in a racist and misogynistic society to become an elite warrior. It's all about blood. The blood spilled between the Republic of Mareen and the armies of the Blood Emperor long ago. The blood gifts of Mareen's deadliest enemies. The blood that runs through the elite War Houses of Mareen, the rulers of the Tribunal dedicated to keeping the republic alive. The blood of the former Legatus, Verne Amari, murdered. For his granddaughter, Ikenna, the only thing steady in her life was the man who had saved Mareen. The man who had trained her in secret, not just in martial skills, but in harnessing the blood gift that coursed through her. Who trained her to keep that a secret. But now there are too many secrets, and with her grandfather assassinated, Ikenna knows two things: that only someone on the Tribunal could have ordered his death, and that only a Praetorian Guard could have carried out that order. Bent on revenge as much as discovering the truth, Ikenna pledges herself to the Praetorian Trials–a brutal initiation that only a quarter of the aspirants survive. She subjects herself to the racism directed against her half-Khanaian heritage and the misogyny of a society that cherishes progeny over prodigy, all while hiding a power that–if found out–would subject her to execution…or worse. Ikenna is willing to risk it all because she needs to find out who murdered her grandfather…and then she needs to kill them. Mareen has been at peace for a long time… Ikenna joining the Praetorians is about to change all that. Magic and technology converge in the first part of this stunning debut duology, where loyalty to oneself–and one's blood–is more important than anything.
De eerste druk van Het lied van de zee verschijnt in Limited Edition met bedrukt boekblok, blauwe folie, geïllustreerde schutbladen, fanart, auteursbrief en een exclusief kort verhaal. Voor de lezers van V.E. Schwab, Naomi Novik en Katherine Arden. Lang geleden floreerde Miren O'Malleys familie dankzij een deal die ze hadden gesloten met de Meermensen: veiligheid voor hun schepen op zee in ruil voor een bijna onbetaalbare prijs. Die belofte hebben ze echter al vele jaren niet kunnen waarmaken. Mirens oma is vastbesloten om de gloriedagen die zij zich nog kan herinneren terug te laten keren, zelfs als dat betekent dat ze Miren haar vrijheid moet ontnemen. Haar oma leert haar dat de O'Malleys een machtige familie horen te zijn die zich houdt aan de eeuwenoude traditie die hen al generatieslang ondersteunt: Eén kind is voor de familie. Eén kind is voor de kerk. En één kind is voor de zee. In de pers: 'Verbluffend gothic-avontuur… Als je van moedige heldinnen, prachtige taal en een goed doordachte wereld houdt, wil je dit niet missen.' Publishers Weekly
De 1e druk van Duivelsvlucht verschijnt in Limited Edition met exclusief omslagontwerp in de stijl van het populaire Dark Academia-thema, geïllustreerde schutbladen en bewerkt boekblok met deckled edges. Deel 2 van de Alex Stern-serie. Alex Stern is terug met een nieuwe moordmysterie vol duistere magie binnen de Ivy League-elite op de prestigieuze Yale University. Alles draait om macht, privilege en moord. Dit is de duistere en decadente wereld van het geheime genootschap, het Negende Huis. Galaxy 'Alex' Stern is vastbesloten om Darlington uit de hel te bevrijden – zelfs al dit haar toekomst op Lethe en Yale zal kosten. Maar Alex speelt met krachten die ver buiten haar vermogens liggen en wanneer de docenten een voor een dood worden gevonden, weet ze zeker dat dit geen ongelukken zijn. Er raast iets moordlustigs door het stadje New Haven. Als Alex wil overleven, zal ze korte metten moeten maken met de monsters uit haar verleden en de duisternis die zich binnen de muren van de universiteit heeft genesteld.
Love is stronger than poison in this lush retelling of "Snow White" by #1 New York Timesbestselling author Melissa de la Cruz. Raven-black hair, red lips, and skin as white as snow—Lady Sophie has led a sheltered life. . . . But that tale ends here. Duchy of Bavaria, 1621. The palace is abuzz with excitement. The widowed Duke Maximilian is marrying a lady named Claudia, and at last, introducing his daughter Sophie to Bavaria's high society. At the ball, Sophie charms the dashing Prince Philip, heir to the Spanish throne. But as days pass and Sophie and Philip fall deeply and dangerously in love, the king of Spain orders Philip's return home and his engagement to a princess. Heartbroken, Sophie finds comfort in Claudia. But might the rumors of her stepmother's dealings with magic be true? And when conflict between kingdoms puts a target on Sophie's back, can a vanished witch be the key ally she needs? A new tale begins: one where Sophie must shield her heart, fight for life life, and protect her home.
In the Remixed Classics series, authors from marginalized backgrounds reinterpret classic works through their own cultural lens to subvert the overwhelming cishet, white, and male canon. This gothic YA remix of Dr. Jekyll & Mr. Hyde subverts the cishet white perspective of the original, starring a Black queer teen searching for the reason behind his best friend's disappearance and the arrival of a magnetic stranger. London, 1885. Gabriel Utterson, a 17-year-old law clerk, has returned to London for the first time since his life— and that of his dearest friend, Henry Jekyll—was derailed by a scandal that led to his and Henry's expulsion from the London Medical School. Whispers about the true nature of Gabriel and Henry's relationship have followed the boys for two years, and now Gabriel has a chance to start again. But Gabriel doesn't want to move on, not without Henry. His friend has become distant and cold since the disastrous events of the prior spring, and now his letters have stopped altogether. Desperate to discover what's become of him, Gabriel takes to watching the Jekyll house. In doing so, Gabriel meets Hyde, a a strangely familiar young man with white hair and a magnetic charisma. He claims to be friends with Henry, and Gabriel can't help but begin to grow jealous at their apparent closeness, especially as Henry continues to act like Gabriel means nothing to him. But the secret behind Henry's apathy is only the first part of a deeper mystery that has begun to coalesce. Monsters of all kinds prowl within the London fog—and not all of them are out for blood…
A couple who broke up months ago make a pact to pretend to still be together for their annual weeklong vacation with their best friends in this glittering and wise new novel from #1 New York Times bestselling author Emily Henry. Harriet and Wyn have been the perfect couple since they met in college—they go together like salt and pepper, honey and tea, lobster and rolls. Except, now—for reasons they're still not discussing—they don't. They broke up six months ago. And still haven't told their best friends. Which is how they find themselves sharing the largest bedroom at the Maine cottage that has been their friend group's yearly getaway for the last decade. Their annual respite from the world, where for one vibrant, blue week they leave behind their daily lives; have copious amounts of cheese, wine, and seafood; and soak up the salty coastal air with the people who understand them most. Only this year, Harriet and Wyn are lying through their teeth while trying not to notice how desperately they still want each other. Because the cottage is for sale and this is the last week they'll all have together in this place. They can't stand to break their friends' hearts, and so they'll play their parts. Harriet will be the driven surgical resident who never starts a fight, and Wyn will be the laid-back charmer who never lets the cracks show. It's a flawless plan (if you look at it from a great distance and through a pair of sunscreen-smeared sunglasses). After years of being in love, how hard can it be to fake it for one week…in front of those who know you best.
Perry Firekeeper-Birch was ready for her Summer of Slack but instead, after a fender bender that was entirely not her fault, she's stuck working to pay back her Auntie Daunis for repairs to the Jeep. Thankfully she has the other outcasts of the summer program, Team Misfit Toys, and even her twin sister Pauline. Together they ace obstacle courses, plan vigils for missing women in the community, and make sure summer doesn't feel so lost after all. But when she attends a meeting at a local university, Perry learns about the "Warrior Girl", an ancestor whose bones and knife are stored in the museum archives, and everything changes. Perry has to return Warrior Girl to her tribe. Determined to help, she learns all she can about NAGPRA, the federal law that allows tribes to request the return of ancestral remains and sacred items. The university has been using legal loopholes to hold onto Warrior Girl and twelve other Anishinaabe ancestors' remains, and Perry and the Misfits won't let it go on any longer. Using all of their skills and resources, the Misfits realize a heist is the only way to bring back the stolen artifacts and remains for good. But there is more to this repatriation than meets the eye as more women disappear and Pauline's perfectionism takes a turn for the worse. As secrets and mysteries unfurl, Perry and the Misfits must fight to find a way to make things right – for the ancestors and for their community. From the New York Times bestselling author of Firekeeper's Daughter comes a thrilling YA mystery about a Native teen who must find a way to bring an ancestor home to her tribe.
Twisted political games and heart-rending relationship drama abound in this stunning conclusion of a mythic epic fantasy duology. The Argyros family is torn asunder, their nation betrayed and taken over by former allies, and twins Rhea and Lexos are left standing on opposite sides of the now full-blown rebellion. Will they be able to reconcile–or will there only be a reckoning?
When Selly's father leaves her high and dry in the port of Kirkpool, she has no intention of riding out the winter on land while he sails to adventure in the north seas. But any plans to follow him are dashed when a handsome stranger with tell-tale magician's marks on his arm boards her ship, presenting her and the crew with a dangerous mission: to cross the Crescent Sea without detection so he can complete a ritual on the sacred Isles of the Gods. What starts as a leisure cruise will lead to acts of treason and sheer terror on the high seas, bringing two countries to the brink of war, two strangers closer than they ever thought possible and stirring two dangerous gods from centuries of slumber… Magic, romance, and slumbering gods clash in the start of a riveting fantasy series that spans gangsters' dens, forgotten temples, and the high seas from the New York Times bestselling author of the Aurora Cycle.