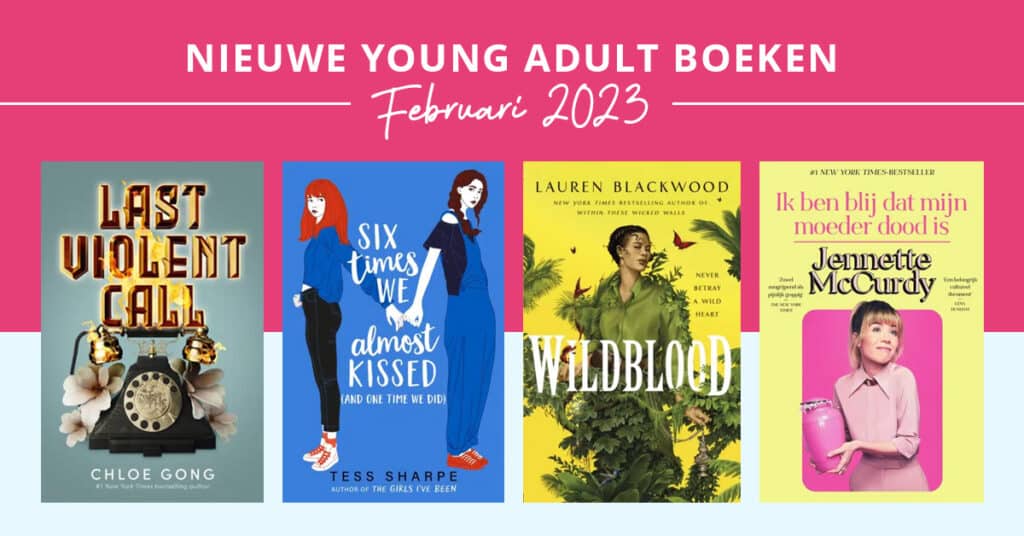 Februari was weer een maand vol boeken! Benieuwd welke boeken jij aan je TBR kunt toevoegen? Wij zetten al onze nieuwe toevoegingen voor je op een rijtje.
Elke maand posten wij de nieuwe Young Adult boeken waar jij naar uit kan kijken. Naar welk boek kijk jij het meest uit?
A sumptuous, gothic-infused story about a marriage that is unraveled by dark secrets, a friendship cursed to end in tragedy, and the danger of believing in fairy tales—the breathtaking adult debut from New York Times bestselling author Roshani Chokshi.
Once upon a time, a man who believed in fairy tales married a beautiful, mysterious woman named Indigo Maxwell-Casteñada. He was a scholar of myths. She was heiress to a fortune. They exchanged gifts and stories and believed they would live happily ever after—and in exchange for her love, Indigo extracted a promise: that her bridegroom would never pry into her past.
But when Indigo learns that her estranged aunt is dying and the couple is forced to return to her childhood home, the House of Dreams, the bridegroom will soon find himself unable to resist. For within the crumbling manor's extravagant rooms and musty halls, there lurks the shadow of another girl: Azure, Indigo's dearest childhood friend who suddenly disappeared. As the house slowly reveals his wife's secrets, the bridegroom will be forced to choose between reality and fantasy, even if doing so threatens to destroy their marriage . . . or their lives.
Combining the lush, haunting atmosphere of Mexican Gothic with the dreamy enchantment of The Invisible Life of Addie LaRue, The Last Tale of the Flower Bride is a spellbinding and darkly romantic page-turner about love and lies, secrets and betrayal, and the stories we tell ourselves to survive.
'Mijn naam is Sintel va-Assai, de rechtmatige Ká van As. Ze zullen voelen hoe ik brand!' Van Sintel wordt gezegd dat ze het teken draagt van de Vuurmoeder, de immense vulkaan die het hele koninkrijk As in haar greep houdt. Sommigen zeggen dat ze gezegend is, velen geloven dat ze een heks is die het land kan vervloeken. Als dochter van de tirannieke Ká weet ze als geen ander dat hun wetten hard zijn, maar dat het leven in As nog harder is. Een koninkrijk dat uit elkaar dreigt te vallen, heeft een standvastige leider nodig. Maar dan gebeurt wat ze onmogelijk achtte: haar vader valt en zijn moordenaar neemt de troon over. Opgejaagd en op de vlucht gaat Sintel op zoek naar bondgenoten. Is ze in staat om uit handen te blijven van de nieuwe Ká en wie kan ze nog vertrouwen? Eén ding weet ze zeker: dit zijn háár kroon en háár koninkrijk, en die zal ze terugkrijgen, hoeveel bloed daar ook voor moet vloeien.
Six moments lead us to two girls, one kiss, and three little words that were maybe always true in this gorgeous novel perfect for fans of Nina LaCour and Jenny Han. Penny and Tate have always clashed. Unfortunately, their mothers are lifelong best friends, so the girls' bickering has carried them through playdates, tragedy, and more than one rom-com marathon with the Moms. When Penny's mother decides to become a living donor to Tate's mom, ending her wait for a liver transplant, things go from clashing to cataclysmic. Because in order to help their families recover physically, emotionally, and financially, the Moms combine their households the summer before senior year. So Penny and Tate make a pact: They'll play nice. Be the drama-free daughters their mothers need through this scary and hopeful time. There's only one little hitch in their plan: Penny and Tate keep almost kissing. It's just this confusing thing that keeps happening. You know, from time to time. For basically their entire teenaged existence. They've never talked about it. They've always ignored it in the aftermath. But now they're living across the hall from each other. And some things—like their kisses—can't be almosts forever.
De 1e druk van de Dochter van de Scharlaken Rozen verschijnt in Limited Edition met exclusief omslagontwerp, bedrukt boekblok, geïllustreerde schutbladen en auteursbrief.
Deel 1 van de Verboden Duet-serie.
Shanghai, 1926. Een bloedvete tussen twee bendes kleurt de straten rood en laat de stad achter in hulpeloze chaos. In het oog van de storm staat Juliette Cai: de achttienjarige erfgename van de Scharlaken Rozen, een netwerk van criminelen dat zich ver boven de wet waant. Hun enige rivalen zijn de Witte Magnolia's, een beruchte bende die al generatieslang tegen de Scharlaken Rozen vecht. Aan het hoofd staat hun erfgenaam, Roma Montagov, Juliette's eerste liefde… en de eerste die haar verried.
De genadeloze machtsstrijd is niet het enige wat de straten onveilig maakt. Een duistere kracht drijft mensen letterlijk tot waanzin. Als de eerste dodelijke slachtoffers vallen, wordt de noodtoestand uitgeroepen. Is het een besmettelijke ziekte? Schuilt er een monster in de schaduwen? Als erfgenamen van de machtigste bendes zullen Juliette en Roma hun krachten moeten bundelen om de inwoners te beschermen. Voordat er niemand meer is om over te heersen.
When a secret society has you in their sights, it can lead to power, privilege… or death.
It's been two weeks since Polly St. James went missing. The police, the headmistress of Torrey-Wells Academy, and even her parents have ruled her a runaway. But not Maren, her best friend and roommate. She knows Polly had a secret that she was about to share with Maren before she disappeared― something to do with the elite, ultra-rich crowd at Torrey-Wells.
Then Maren finds an envelope hidden among Polly's things: an invitation to the Gamemaster's Society. Do not tell anyone, it says. Maren is certain her classmates in the Society know the truth about what happened to Polly, though it's no easy feat to join. Once Maren's made it through the treacherous initiation, she discovers a world she never knew existed within her school, where Society members compete in high-stakes games for unheard-of rewards―Ivy League connections, privileges, favors.
But Maren's been drawn into a different game: for every win, she'll receive a clue about Polly. And as Maren keeps winning, she begins to see just how powerful the Society's game is―bigger and deadlier than she ever imagined. They see, they know, they control. And they kill.
The Davenports delivers a totally escapist, swoon-worthy romance while offering a glimpse into a period of African American history often overlooked. The Davenports are one of the few Black families of immense wealth and status in a changing United States, their fortune made through the entrepreneurship of William Davenport, a formerly enslaved man who founded the Davenport Carriage Company years ago. Now it's 1910, and the Davenports live surrounded by servants, crystal chandeliers, and endless parties, finding their way and finding love—even where they're not supposed to. There is Olivia, the beautiful elder Davenport daughter, ready to do her duty by getting married . . . until she meets the charismatic civil rights leader Washington DeWight and sparks fly. The younger daughter, Helen, is more interested in fixing cars than falling in love—unless it's with her sister's suitor. Amy-Rose, the childhood friend turned maid to the Davenport sisters, dreams of opening her own business—and marrying the one man she could never be with, Olivia and Helen's brother, John. But Olivia's best friend, Ruby, also has her sights set on John Davenport, though she can't seem to keep his interest . . . until family pressure has her scheming to win his heart, just as someone else wins hers. Inspired by the real-life story of the Patterson family, The Davenports is the tale of four determined and passionate young Black women discovering the courage to steer their own path in life—and love.
De internationale megabestseller, bekend van Tiktok!
Rowan Kane is de directeur van attractiepark Dreamland, dus hij is elke dag bezig om sprookjes tot leven te brengen. Het miljardenbedrijf waar Dreamland bij hoort bestaat naast het park ook uit een paar mediabedrijven en meerdere hotels. Rowan wil CFO van dat alles worden, maar dan moet hij eerst bewijzen dat hij de geschikte persoon is om het megabedrijf klaar te maken voor de toekomst.
Zahra Gulian werkt al een tijdje bij Dreamland. Ze heeft veel creatieve ideeën over wat er aan het park verbeterd zou kunnen worden, die ze helaas nergens kwijt kan. Op een avond schrijft ze in beschonken staat een analyse over waarom één van de duurste attracties van Dreamland een mislukking is, met een voorstel erbij om het te verbeteren.
Zahra verwacht dat Rowan haar zal ontslaan vanwege haar brutale mail, maar tegen alle verwachtingen in biedt hij haar een geweldige nieuwe baan aan. De samenwerking met Rowan blijkt nog lastiger dan Zahra had gedacht. Rowan is bot, veeleisend, en als het op Dreamland aankomt, heeft hij alles over voor meer winst. Zal Zahra hem kunnen laten zien dat er dingen zijn die belangrijker zijn dan geld?
Tussen de regels (Engelse titel The Fine Print) is het eerste deel van Lauren Ashers superpopulaire serie in de wereld van attractiepark Dreamland. Het vervolg heet Op één voorwaarde (Engelse titel Terms and Conditions).
Immerse yourself in the second book the Castles in their Bones series from the New York Times bestselling author of the Ash Princess series. 'A page-turner that brilliantly blends magic, romance, and adventure' Booklist Seduction. Conquest. The Crown. Princesses Daphne, Beatriz, and Sophronia have trained their entire lives for one purpose: to bring down nations. Their mother, Empress Margaraux of Bessemia, is determined to rule the continent of Vesteria, and her daughters are her weapons. Promised for marriage since birth, they are her ticket across enemy lines. And also her decoys. Still, not even Empress Margaraux can control the stars. Sent to their new kingdoms, orders in hand, the princesses have found their own paths, changing the course of their mother's plans entirely – and tragically. Sophronia chose love, and for that, she lost her life. Daphne and Beatriz can hardly believe their sister is dead, but both are determined to avenge her. And now, separated by a continent – and their mother's lies – they see more clearly with every passing day that they might not be working toward the same end. The stars whisper of death, but Daphne and Beatriz are just beginning to understand the true power coursing through their veins. And their mother will do anything to keep them under her thumb – even if it means killing them all. PRAISE FOR LAURA SEBASTIAN 'Sebastian weaves the story together with a firm handle on pacing and worldbuilding, placing twists and turns throughout as characters leave their assigned countries' School Library Journal, on Stardust in their Veins '…the worldbuilding is rich, clearly defined, and easy to follow' Kirkus Reviews, on Stardust in their Veins 'Made for fans of Victoria Aveyard and Sabaa Tahir' Bustle, on Ash Princess
From #1 New York Times bestselling author Chloe Gong comes two captivating new novellas surrounding the events of Foul Lady Fortune and following a familiar cast of characters from the These Violent Delights Duet! In A Foul Thing, Roma and Juliette have established themselves as the heads of an underground weapons ring in Zhouzhuang, making a living the way they do best while remaining anonymous in their peaceful, quiet life. But when they hear about several Russian girls showing up dead in nearby towns, they decide to investigate—and ultimately discover that this mystery is much closer to home than they ever imagined. In This Foul Murder, Benedikt and Marshall have been summoned by Roma to find the elusive scientist, Lourens, and bring him to Zhouzhuang. Time is of the essence aboard the week-long Trans-Siberian Express, but when someone is murdered on board, Benedikt and Marshall convince the officer in charge not to stop the train so that they aren't thrown off-schedule. Instead, they pretend that they are investigators and promise they can solve the murder, but as they dig deeper, they realize that the murder might having surprising ties to their own mission…
A Most Anticipated Book of 2023 By Readers on Goodreads!A thrilling Jamaican inspired fantasy from New York Times bestselling author Lauren BlackwoodEighteen-year-old Victoria is a Wildblood. Kidnapped at the age of six and manipulated by the Exotic Lands Touring Company, she's worked as a tour guide ever since with a team of fellow Wildbloods who take turns using their magic to protect travellers in a jungle teeming with all the ghostly monsters of Jamaican legend. When the boss denies Victoria the promotion that was promised to her in favour of Dean, her backstabbing ex, Victoria is determined to prove herself.
Her magic may be the most powerful on the team, but she's the wrong image the boss wants to send their new client, Laertes Thorn, a renowned goldminer determined to reach an untouched gold supply deep in the jungle. Thorn is everything Victoria isn't – confident, impossibly kind, and so handsome he leaves her speechless. And when he entrusts the mission to her, kindness turns to mutual respect, turns to affection, turns to love.
But the jungle is treacherous, and between hypnotic river spirits, soul-devouring women that shed their skin like snakes, and her ex out for revenge, Victoria has to decide – is promotion at a corrupt company really what she wants?A fierce, lush fantasy by New York Times bestselling author Lauren Blackwood, Wildblood tells the story of a girl who must find the strength to defeat the demons of the jungle as well as her own to find where she truly belongs. "A lyrically told story of healing after trauma and finding home, Wildblood is as fierce as it is beautiful, and as hopeful as it is heartbreaking." – Hannah Whitten, New York Times bestselling author of For the Wolf"Wildblood is a poignant, thrilling, emotionally complex story of love and sacrifice. Victoria's tense journey through the haunted jungle is filled with terror and beauty, both supernatural and human, and will grip you until the very last page." – L.
Penelope, award-winning author of the Earthsinger Chronicles
Een hartverscheurend én hilarisch relaas van de iCarly-ster Jennette McCurdy over haar strubbelingen als voormalig kindster, de gecompliceerde relatie met haar manipulatieve moeder, en hoe ze de controle over haar eigen leven weer terugpakt. Jennette McCurdy was zes jaar oud toen ze haar eerste acteerauditie deed. Het was haar moeders droom dat haar enige dochter een ster zou worden, en Jennette had er alles voor over om haar moeder gelukkig te maken. Ze ging dan ook mee in al haar moeders manipulatieve grillen, ook in wat haar moeder 'caloriebeperking' noemde: weinig eten en zichzelf vijf keer per dag wegen. Zo ontstond er tussen hen een vreemde dynamiek, waarin haar moeder Jennette onder andere tot haar zestiende hoogstpersoonlijk onder de douche zet en ongevraagd bij haar intrekt als ze eindelijk op zichzelf gaat wonen. In Ik ben blij dat mijn moeder dood is schuwt McCurdy geen enkel pijnlijk detail uit haar jeugd. Als de droom eindelijk uitkomt en ze wordt gecast voor de nieuwe Nickelodeon-serie iCarly is haar moeder extatisch, maar wordt Jennette overspoeld door angst, schaamte en zelfhaat, wat zich uiteindelijk vertaalt in eetstoornissen, verslaving en een hoop ongezonde relaties. Het wordt alleen maar erger als haar moeder, vlak nadat ze (naast Ariana Grande) de hoofdrol krijgt in de iCarly-spinoff Sam & Cat, aan kanker overlijdt. Pas na haar dood, door therapie en door te stoppen met acteren, kan Jennette accepteren hoe ongezond en schadelijk hun relatie voor haar is geweest en lukt het om voor het eerst in haar leven écht voor zichzelf te kiezen. Verteld met een verfrissende eerlijkheid en humor is Ik ben blij dat mijn moeder dood is een inspirerend verhaal over weerbaarheid, onafhankelijkheid en het genot van je eigen haar wassen.
Na de Nacht van Walgraaf is er complete chaos uitgebroken in Solvenia. In het puin van de oorlog staan heksen en Lozen verder uit elkaar dan ooit. Lara wordt tot haar schrik benoemd tot rijksbestuurder en krijgt de onmogelijke taak om het land weer op te bouwen. Maar ondertussen speelt de duistere heks Kalyna haar eigen spel. Lara zal voor de laatste keer de strijd aan moeten gaan. Maar om Kalyna te stoppen, zal ze meer moeten opofferen dan haar lief is.
Acht uur. Zes vrienden. Vijf blijven in leven. De achttienjarige Red en haar vrienden gaan op voorjaarsvakantie naar de kust. Hun camper zit vol en de stemming zit er goed in. Totdat de camper op mysterieuze wijze opeens tot stilstand komt in niemandsland. Terwijl de wielen een voor een kapot worden geschoten, beseft de groep dat er geen sprake is van een ongeluk. Er zit een scherpschutter daarbuiten, en hij heeft het op een van hen gemunt. Iemand uit de groep heeft namelijk een geheim waar de schutter een moord voor zou plegen. Het is het begin van een kat- en muisspel waarin de zes vrienden wanhopig op zoek gaan naar hulp. Verborgen geheimen komen aan het licht en er heerst een dodelijke spanning binnen de groep. Er is maar één ding zeker. Niet iedereen zal deze nacht overleven… Bloedstollende misdaadthriller van de auteur van de veelgeprezen Moordgids-trilogie.
From Tessa Bailey-#1 New York Times bestselling author, TikTok favorite, and "the Michelangelo of dirty talk" (Entertainment Weekly)-comes a steamy small town rom-com about a starchy professor and the bubbly neighbor he clashes with at every turn… Hallie Welch fell hard for Julian Vos at fourteen, after they almost kissed in the dark vineyards of his family's winery. Now the prodigal hottie has returned to Napa Valley and when Hallie is hired to revamp the gardens on the Vos estate, she wonders if she'll finally get that smooch.
But the grumpy professor isn't the teenager she remembers and their polar opposite personalities clash spectacularly. One wine-fueled girls' night later, Hallie can't shake the sense that she did something reckless-and then she remembers the drunken secret admirer letter she left for Julian. Oh shit.
On sabbatical from his ivy league job, Julian plans to write a novel. But having Hallie gardening right outside his window is the ultimate distraction. She's eccentric, chronically late, often literally covered in dirt-and so unbelievably beautiful, he can't focus on anything else.
Until he finds an anonymous letter sent by a woman from his past. Even as Julian wonders about this admirer, he's sucked further into Hallie's orbit. Like the flowers she plants all over town, Hallie is a burst of color in Julian's grayscale life.
For a man who irons his socks and runs on tight schedules, her sunny chaotic energy makes zero sense. But there's something so familiar about her… and her very presence is turning his world upside down.
"Tessa Bailey is the queen of rom-coms. Long may she reign!" – Julie Murphy, #1 New York Times bestselling author of A Merry Little Meet Cute
'A magnificent, sweeping epic' JENNIFER SAINT, Sunday Times-bestselling author of ARIADNE 'Shannon is simply a master of the genre' C. S. PACAT, New York Times-bestselling author of DARK RISE 'A tremendous triumph' LONDON SHAH, award-winning author of the LIGHT OF THE ABYSS series 'A gorgeous, glittering epic' DAILY MAIL ____________________ A return to the world of Samantha Shannon's Sunday Times and New York Times-bestselling The Priory of the Orange Tree ____________________ Tunuva Melim is a sister of the Priory. For fifty years, she has trained to slay wyrms but none have appeared since the Nameless One, and the younger generation is starting to question the Priory's purpose. To the north, in the Queendom of Inys, Sabran the Ambitious has married the new King of Hr th, narrowly saving both realms from ruin. Their daughter, Glorian, trails in their shadow exactly where she wants to be. The dragons of the East have slept for centuries. Dumai has spent her life in a Seiikinese mountain temple, trying to wake the gods from their long slumber. Now someone from her mother's past is coming to upend her fate. When the Dreadmount erupts, bringing with it an age of terror and violence, these women must find the strength to protect humankind from a devastating threat. Intricate and epic, A Day of Fallen Night sweeps readers back to the world of A Priory of the Orange Tree, showing us a course of events that shaped it for generations to come. **Chosen as a book of 2023 by the Metro, Cosmopolitan, Nerd Daily, PinkNews and Waterstones**
Hazel Sinnett is alone and half-convinced the events of the year before—the immortality, Beecham's vial—were a figment of her imagination. She doesn't even know whether Jack is alive or dead. All she can really do now is treat patients and maintain Hawthornden Castle as it starts to decay around her. When saving a life leads to her arrest, Hazel seems doomed to rot in prison until a message intervenes: She has been specifically requested to be the personal physician of Princess Charlotte, the sickly daughter of King George IV. Soon Hazel is dragged into the glamor and romance of a court where everyone has something to hide, especially the enigmatic, brilliant members of a social club known as the Companions to the Death. As Hazel's work entangles her more and more with the British court, she realizes that her own future as a surgeon isn't the only thing at stake. Malicious forces are at work in the monarchy, and Hazel may be the only one capable of setting things right. Immortality: A Love Story is the eagerly anticipated sequel to Dana Schwartz's bestselling gothic romance, Anatomy: A Love Story.
Nash Morgan was always known as the good Morgan brother, with a smile and a wink for everyone. But now, this chief of police is recovering from being shot and his Southern charm has been overshadowed by panic attacks and nightmares. He feels like a broody shell of the man he once was. Nash isn't about to let anyone in his life know he's struggling. But his new next-door neighbor, smart and sexy Lina, sees his shadows. As a rule, she's not a fan of physical contact unless she initiates it, but for some reason Nash's touch is different. He feels it too. The physical connection between them is incendiary, grounding him and making her wonder if exploring it is worth the risk.
Too bad Lina's got secrets of her own, and if Nash finds out the real reason she's in town, he'll never forgive her. Besides, she doesn't do relationships. Ever. A hot, short-term fling with a local cop? Absolutely. Sign her up. A relationship with a man who expects her to plant roots? No freaking way. Once she gets what she's after, she has no intention of sticking around. But Knockemout has a way of getting under people's skin. And once Nash decides to make Lina his, he's not about to be dissuaded…even if it means facing the danger that nearly killed him.
A house with a terrifying appetite haunts a broken family in this atmospheric horror, perfect for fans of Mexican Gothic. When Jade Nguyen arrives in Vietnam for a visit with her estranged father, she has one goal: survive five weeks pretending to be a happy family in the French colonial house Ba is restoring. She's always lied to fit in, so if she's straight enough, Vietnamese enough, American enough, she can get out with the college money he promised. But the house has other plans. Night after night, Jade wakes up paralyzed. The walls exude a thrumming sound, while bugs leave their legs and feelers in places they don't belong. She finds curious traces of her ancestors in the gardens they once tended. And at night Jade can't ignore the ghost of the beautiful bride who leaves her cryptic warnings: Don't eat. Neither Ba nor her sweet sister Lily believe that there is anything strange happening. With help from a delinquent girl, Jade will prove this house—the home her family has always wanted—will not rest until it destroys them. Maybe, this time, she can keep her family together. As she roots out the house's rot, she must also face the truth of who she is and who she must become to save them all.
The exciting, heartfelt sequel to Golden Boys. As graduation looms, it's clear the boys' friendship will never be the same – but it could be so much more… After a summer of life-changing experiences and travel, Gabriel, Reese, Sal and Heath are reunited for their senior year of high school.
With all the drama going on, from big choices about their future careers to pursuing new interests to colleges miles away from each other, it's clear their friendship will never be the same. How could it be?Their golden years had to end someday, but if they can stay connected to each other after all this time, what happens next might be more special than they could've ever imagined.
The #1 New York Times bestselling author of Dear Martin, delivers a gripping romance about two teens: a certified genius living with bipolar disorder and a politician's son who is running from his own addiction and grief. Don't miss this gut punch of a novel about mental illness, loss, and discovering you are worthy of love. Scars exist to remind us of what we've survived. DETACHED Since Shelbi enrolled at Windward Academy as a senior and won't be there very long, she hasn't bothered making friends. What her classmates don't know about her can't be used to hurt her–you know, like it did at her last school. WASTED Andy Criddle is not okay. At all. He's had far too much to drink. Again. Which is bad. And things are about to get worse. When Shelbi sees Andy at his lowest, she can relate. So she doesn't resist reaching out. And there's no doubt their connection has them both seeing stars . . . but the closer they get, the more the past threatens to pull their universes apart.
Generations of Montrose women—Augusta, Victoria, Willow—have lived together in their quaint two-story bungalow in California for years. They keep to themselves, never venture far from home, and their collection of tinctures and spells is an unspoken bond between them.
But when seventeen-year-old Nickie Montrose brings home a boy for the first time, their quiet lives are thrown into disarray. For the other women have been withholding a secret from Nickie that will end her relationship before it's even begun: the decades-old family curse that any person they fall in love with dies.
For each member of the household, revealing this truth to Nickie also means reckoning with their own past choices and mistakes. And as new questions about long-held family beliefs emerge, the women are set on a collision course dating back to a voodoo shop in 1950s New Orleans's French Quarter—where a hidden story in a mysterious book may just hold the answers they seek in life and in love…
Soar into a breathtaking world of heroes and unicorns as you've never seen them before in this fantastical middle grade debut perfect for fans of the Percy Jackson and Eragon series!
Skandar Smith has always yearned to leave the Mainland and escape to the secretive Island, where wild unicorns roam free. He's spent years studying for his Hatchery exam, the annual test that selects a handful of Mainlander thirteen-year-olds to train to become unicorn riders. But on the day of Skandar's exam, things go horribly wrong, and his hopes are shattered…until a mysterious figure knocks on his door at midnight, bearing a message: the Island is in peril and Skandar must answer its call.
Skandar is thrust into a world of epic sky battles, dangerous clashes with wild unicorns, and rumors of a shadowy villain amassing a unicorn army. And the closer Skandar grows to his newfound friends and community of riders, the harder it becomes to keep his secrets—especially when he discovers their lives may all be in graver danger than he ever imagined.
To All the Boys I've Loved Before meets Pride and Prejudice in this delightful and heartfelt rom-com about a Bangladeshi American teen whose meddling mother arranges a match to secure their family's financial security—just as she's falling in love with someone else. Zahra Khan is basically Bangladeshi royalty, but being a princess doesn't pay the bills in Paterson, New Jersey. While Zahra's plans for financial security this summer involve working long hours at Chai Ho and saving up for college writing courses, Amma is convinced that all Zahra needs is a "good match," Jane Austen style. Enter Harun Emon, who's wealthy, devastatingly handsome, and…aloof. As soon as Zahra meets him, she knows it's a bad match. It's nothing like the connection she has with Nayim Aktar, the new dishwasher at the tea shop, who just gets Zahra in a way no one has before. So, when Zahra finds out that Harun is just as uninterested in this match as she is, they decide to slowly sabotage their parents' plans. And for once in Zahra's life, she can have her rossomalai and eat it too: "dating" Harun and keeping Amma happy while catching real feelings for Nayim. But life—and boys—can be more complicated than Zahra realizes. With her feelings all mixed up, Zahra discovers that sometimes being a good Bengali kid can be a royal pain.
Twin sisters, both on the run, but different as day and night. One, a professional rogue, searches for a fabled treasure; the other, a changeling, searches for the truth behind her origins, trying to find a place to fit in with the realm of fae who made her and the humans who shun her.  Iselia "Seelie" Graygrove looks just like her twin, Isolde… but as an autistic changeling trying to navigate her unpredictable magic, Seelie finds it more difficult to fit in with the humans around her. When Seelie and Isolde are caught up in a heist gone wrong and make some unexpected allies, they find themselves unraveling a larger mystery that has its roots in the history of humans and fae alike. Both sisters soon discover that the secrets of the faeries may be more valuable than any pile of gold and jewels. But can Seelie harness her magic in time to protect her sister, and herself?