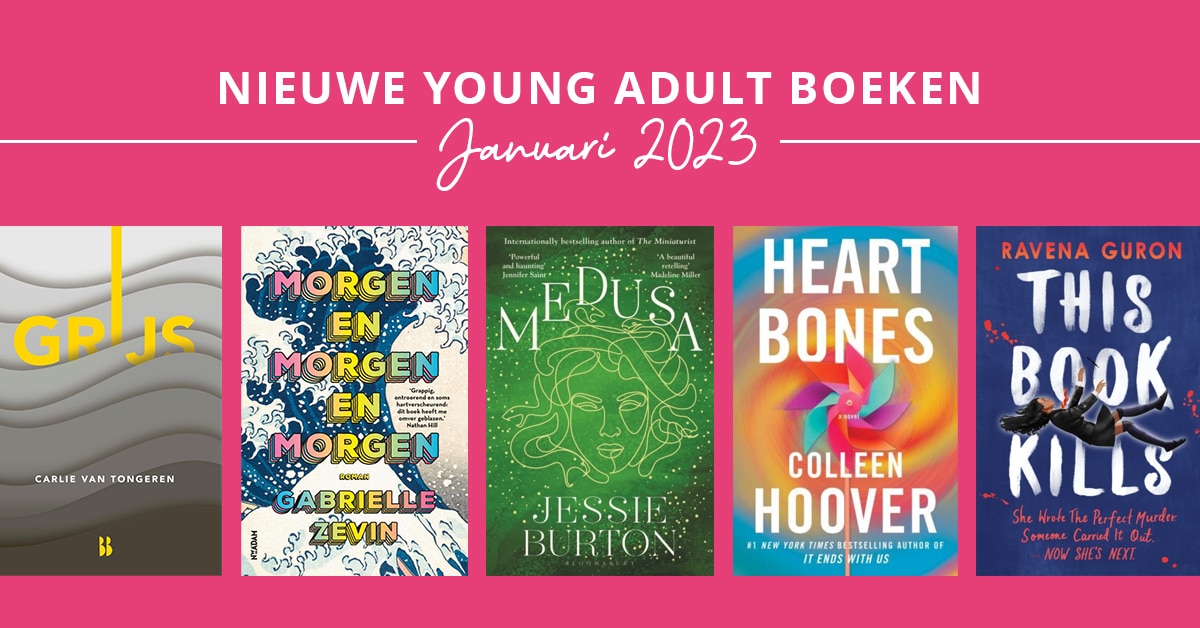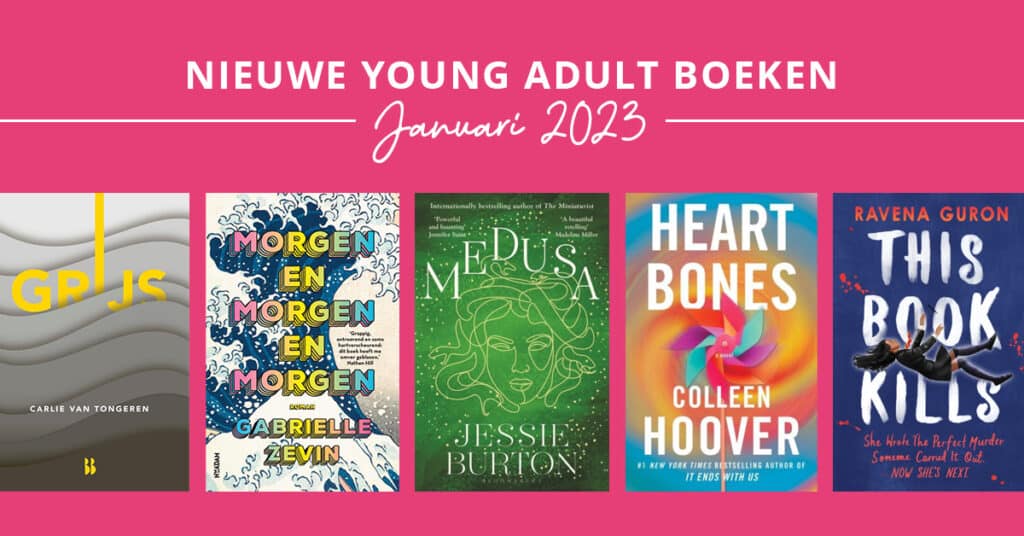 Het jaar is begonnen met een heel aantal nieuwe boeken! In Januari kwamen er zelfs meer dan dertig nieuwe boeken uit in het Nederlands en Engels.  Er zijn een hele hoop mooie, nieuwe Young Adult boeken uitgekomen die aan jouw TBR-lijst toegevoegd moeten worden. Welke boeken van Januari missen we nog? Let us know!
Elke maand posten wij de nieuwe Young Adult boeken waar jij naar uit kan kijken. Naar welk boek kijk jij het meest uit?
From the New York Times bestselling author of the Brown Sisters trilogy, comes a laugh-out-loud story about a quirky content creator and a clean-cut athlete testing their abilities to survive the great outdoors–and each other. Bradley Graeme is pretty much perfect. He's a star football player, manages his OCD well (enough), and comes out on top in all his classes . . . except the ones he shares with his ex-best friend, Celine. Celine Bangura is conspiracy-theory-obsessed. Social media followers eat up her takes on everything from UFOs to holiday overconsumption–yet, she's still not cool enough for the popular kids' table. Which is why Brad abandoned her for the in-crowd years ago. (At least, that's how Celine sees it.) These days, there's nothing between them other than petty insults and academic rivalry. So when Celine signs up for a survival course in the woods, she's surprised to find Brad right beside her. Forced to work as a team for the chance to win a grand prize, these two teens must trudge through not just mud and dirt but their messy past. And as this adventure brings them closer together, they begin to remember the good bits of their history. But has too much time passed . . . or just enough to spark a whole new kind of relationship
From the New York Times bestselling author of The Love Hypothesis comes a collection of steamy, STEMinist novellas featuring a trio of engineers and their loves in loathing—with a special bonus chapter! Under One Roof An environmental engineer discovers that scientists should never cohabitate when she finds herself stuck with the roommate from hell—a detestable big-oil lawyer who won't leave the thermostat alone. Stuck with You A civil engineer and her nemesis take their rivalry—and love—to the next level when they get stuck in a New York elevator. Below Zero A NASA aerospace engineer's frozen heart melts as she lies injured and stranded at a remote Arctic research station and the only person willing to undertake the dangerous rescue mission is her longtime rival.
"At once fun, twisty and insightful, This Book Kills is a gripping murder mystery that will keep you on the edge of your seat." Adiba Jaigirdar, YA Book Prize winning author of Hani and Ishu's Guide to Fake Dating. There's a murderer on the loose in an elite boarding school… But who is going to be next? This Book Kills is the YA thriller of 2023, perfect for fans of Holly Jackson and Karen McManus. "I'll make it clear from the start: I did not kill Hugh Henry Van Boren. I didn't even help. Well, not intentionally."When Hugh Henry Van Boren, one of the most popular and richest kids in Jess Choudhary's school, is found dead, the student body is left reeling and wondering who the murderer could be… Jess, a student under strict instructions to keep her record clean or risk losing her scholarship, finds herself at the centre of the investigation when it's revealed that Hugh died in the exact same way as a character in a short story she wrote. And then Jess receives an anonymous text thanking her for the inspiration. With time running out, Jess knows if she doesn't solve this mystery she'll finally have something in common with Hugh Henry. She'll be dead too.
Senior year at Ellingham Academy for Stevie Bell isn't going well. Her boyfriend, David, is studying in London. Her friends are obsessed with college applications. With the cold case of the century solved, Stevie is adrift. There is nothing to distract her from the questions pinging around her brain—questions about college, love, and life in general.
Relief comes when David invites Stevie and her friends to join him for study abroad, and his new friend Izzy introduces her to a double-murder cold case. In 1995, nine friends from Cambridge University went to a country house and played a drunken game of hide-and-seek. Two were found in the woodshed the next day, murdered with an ax.
The case was assumed to be a burglary gone wrong, but one of the remaining seven saw something she can't explain. This was no break-in. Someone's lying about what happened in the woodshed.
Seven suspects. Two murders. One killer still playing a deadly game.
Adiba Jaigirdar, author of one of Time's Best YA books of all time, gives Titanic an Ocean's 8makeover in a heist for a treasure aboard the infamous ship that sank in the Atlantic many years ago. A thief. An artist. A acrobat. An actress. While Josefa, Emilie, Hinnah, and Violet seemingly don't have anything in common, they're united in one goal: stealing the Rubaiyat, a jewel-encrusted book aboard the RMS Titanic that just might be the golden ticket to solving their problems. But careless mistakes, old grudges, and new romance threaten to jeopardize everything they've worked for and put them in incredible danger when tragedy strikes. While the odds of pulling off the heist are slim, the odds of survival are even slimmer . . . Perfect for fans of Stalking Jack the Ripper and Girl in the Blue Coat, this high-seas heist from the author of The Henna Wars is an immersive story that makes readers forget one important detail— the ship sinks.
The sensational Sunday Times bestseller from Jessie Burton, the million-copy bestselling author of The Miniaturist and The Muse.
One winter's afternoon on Hampstead Heath in 1980, Elise Morceau meets Constance Holden and quickly falls under her spell. Connie is bold and alluring, a successful writer whose novel is being turned into a major Hollywood film. Elise follows Connie to LA, a city of strange dreams and swimming pools and late-night gatherings of glamorous people. But whilst Connie thrives on the heat and electricity of this new world where everyone is reaching for the stars and no one is telling the truth, Elise finds herself floundering. When she overhears a conversation at a party that turns everything on its head, Elise makes an impulsive decision that will change her life forever.
Three decades later, Rose Simmons is seeking answers about her mother, who disappeared when she was a baby. Having learned that the last person to see her was Constance Holden, a reclusive novelist who withdrew from public life at the peak of her fame, Rose is drawn to the door of Connie's imposing house in search of a confession . . .
From the million-copy bestselling author of The Miniaturist and The Muse, The Confession is a luminous, powerful and deeply moving novel about secrets and storytelling, motherhood and friendship, and how we lose and find ourselves.
Gotham meets Strange the Dreamer in this thrilling young adult fantasy about a cowardly girl who finds herself at the center of a criminal syndicate conspiracy, in a city where crooked politicians and sinister cults reign and dreaming means waking up as your worst nightmare.
Ever since her sister became a man-eating spider and slaughtered her way through town, nineteen-year-old Ness has been terrified—terrified of some other Nightmare murdering her, and terrified of ending up like her sister. Because in Newham, the city that never sleeps, dreaming means waking up as your worst fear.
Whether that means becoming a Nightmare that's monstrous only in appearance, to transforming into a twisted, unrecognizable creature that terrorizes the city, no one is safe. Ness will do anything to avoid becoming another victim, even if that means lying low among the Friends of the Restful Soul, a questionable organization that may or may not be a cult.
But being a member of maybe-cult has a price. In order to prove herself, Ness cons her way into what's supposed to be a simple job for the organization—only for it to blow up in her face. Literally. Tangled up in the aftermath of an explosive assassination, now Ness and the only other survivor—a Nightmare boy who Ness suspects is planning to eat her—must find their way back to Newham and uncover the sinister truth behind the attack, even as the horrors of her past loom ominously near.
No one really knows what they are. Only that they're the first civilization. Aeons, they call themselves. They're immortal. Powerful. Secretive.
And they'll come for her.
Witch Wynter Dellavale knows that for certain. Because in unfairly trying to execute her, they started a chain of events they're struggling to stop.
Needing safety, she flees to Devil's Cradle, the home of monsters. A place for the outcasts, the fugitives, the crazies. A place ruled by the Ancients, seven beings who were once banished by the Aeons. Among the Ancients is the infamous Cain, brother of Abel and embodiment of jealousy — who, on another note, wants her in his bed.
There's a heavy price for the safety the Ancients offer, but Wynter will have to pay it. She can't take on the Aeons alone. And she has no intention of dying — been there, done that.
Not that she'll be the easy prey the Aeons are expecting. They have no knowledge of the … thing that lives inside her. You see, when witches are brought back from the afterlife, they don't always come back the same.
And they don't always come back alone.
A runaway queen. A reluctant prince. And a quest that may destroy them both.
Eight years have passed since the Battle of the Serpent. But in the icy north, Lady Nore of the Court of Teeth, has reclaimed the Ice Needle Citadel. There she is using an ancient relic to create monsters of stick and snow who will do her bidding and exact her revenge.
Suren, child queen of the Court of Teeth, and the one person with power over her mother, fled to the human world, where she lives feral in the woods. Lonely, and still haunted by the merciless torments she endured in the Court of Teeth, she bides her time by releasing mortals from foolish bargains. She believes herself forgotten until the storm hag Bogdana chases her through the night streets.
Suren is saved by none other than Prince Oak, heir to Elfhame, to whom she was once promised in marriage and who she has resented for years. Now seventeen, Oak is charming, beautiful and manipulative. He's on a mission that will lead him into the north, and he wants Suren's help.
But if she agrees, it will mean guarding her heart against the boy she once knew and a prince she cannot trust, as well as confronting all the horrors she thought she had left behind.
Galaxy 'Alex' Stern is determined to break Darlington out of hell-even if it costs her a future at Lethe and at Yale. But Alex is playing with forces far beyond her control, and when faculty members begin to die off, she knows these aren't just accidents. Something deadly is at work in New Haven, and if Alex is going to survive, she'll have to reckon with the monsters of her past and a darkness built into the university's very walls.
Always a matchmaker, never a match… Olivia Huang Christenson is excited-slash-terrified to be taking over her grandmother's matchmaking business. But when she learns that a new dating app has made her Po Po's traditional Chinese zodiac approach all about "animal attraction," her emotions skew more toward furious-slash-outraged.
Especially when L.A.'s most-eligible bachelor Bennett O'Brien is behind the app that could destroy her family's legacy . . .
Liv knows better than to fall for any guy, let alone an infuriatingly handsome one who believes that traditions are meant to be broken. As the two businesses go head to head, Bennett and Liv make a deal: they'll find a match for each other-and whoever falls in love loses. But Liv is dealing with someone who's already adept at stealing business ideas .
. . so what's stopping him from stealing her heart too?
Het laatste deel in deze heerlijk romantische prequelserie over de buren van de Bridgertons
Georgiana Bridgerton is niet tégen het idee van een huwelijk, ze had gewoon gedacht dat ze er iets meer over te zeggen zou hebben. Als haar reputatie aan een zijden draadje hangt nadat ze is ontvoerd en in ruil voor haar bruidsschat pas wordt vrijgelaten, heeft Georgie twee opties: haar leven leiden als oude vrijster of trouwen met de schurk die haar leven heeft verwoest.
Maar er is nog een derde optie.
Als vierde zoon van een graaf is Nicholas Rokesby van plan zijn eigen koers te bepalen. Hij heeft een leven in Edinburgh, waar hij op het punt staat zijn medische studie af te ronden, en hij heeft geen interesse in het vinden van een vrouw. Maar wanneer hij ontdekt dat Georgie Bridgerton – zijn buurmeisje – de ondergang tegemoet gaat, weet hij wat hem te doen staat: een verstandshuwelijk. Een veilige optie, want ze zouden elkaar nooit kunnen zien als iets anders dan jeugdvrienden… toch?
She dug her mother's grave in the poison garden so it would stay hidden… From the snowy winter woods to the bright midnight sun; from lost and powerless to finding your path, Now She is Witch conjures a world of violence and beauty – a world where women grasp at power through witchcraft, sexuality and performance, and most of all through throwing each other to the wolves. Lux has lost everything when Else finds her, alone in the woods. Her family, her lover, her home – all burned. The world is suspicious of women like her. But Lux is cunning; she knows how to exploit people's expectations, how to blend into the background. And she knows a lot about poisons. Else has not found Lux by accident. She needs her help to seek revenge against the man who wronged her, and together they pursue him north. But on their hunt they will uncover dark secrets that entangle them with dangerous adversaries.
Calliope Rosewood is a witch with a long streak of bad luck. Like all witches in Illustros, her fate is directly tied to Witch's Dice—powerful artifacts that have blessed her kind with limitless magic but also set them on a path toward destruction. Cursed with unspeakable powers that terrify even the most dangerous witches and fae, Calla deserted her coven four years ago and has been in hiding with her two best friends since. But Calla is also hiding a grave secret: She is only three Rolls away from becoming the last Blood Warrior and starting the Final War that will decimate her people and eradicate their magic. After a betrayal from her ex leads her one step closer to fulfilling that age-old prophecy, Calla is desperate to do whatever it takes to reset her fate . . . even if that means journeying into the deadly Neverending Forest with said ex and his enticing, yet enigmatic older brother to find the one being who can help her forge her own path. As Calla ventures farther into the enchanted woods, she finds her heart torn between her past desires and the alluring new possibilities of her future and learns that choosing your own destiny may come with deadly consequences. Featuring a charming and chaotic ensemble cast of characters, this first book in a planned series by debut author Kaylie Smith will sweep readers away with its utterly immersive world building, swoon-worthy romance, and action-packed storytelling.
A working-class woman who infiltrates Singapore's high society to fulfill her dreams risks losing everything in the process—including herself—in this propulsive novel by debut author Kyla Zhao. For as long as she can remember, Samantha Song has dreamed of writing for a high-society magazine—and she'd do anything to get there. But the constant struggle to help her mom make ends meet and her low social status cause her dream to feel like a distant fantasy. Now Samantha finds herself working at a drab PR firm. Living vicariously through her wealthy coworker and friend, Anya Chen, is the closest she'll get to her ideal life. Until she meets Timothy Kingston: the disillusioned son of one of Singapore's elite families—and Samantha's one chance at infiltrating the high-society world to which she desperately wants to belong. To Samantha's surprise, Timothy and Anya both agree to help her make a name for herself on Singapore's socialite scene. But the borrowed designer clothes and plus-ones to every glamorous event can only get her so far. The rest is on Samantha, and she's determined to impress the editor in chief of Singapore's poshest magazine. But the deeper Samantha wades into this fraud, the more she fears being exposed—especially with a mysterious gossip columnist on the prowl for dirt—forcing her to reconcile her pretense with who she really is before she loses it all.
'Anne O'Brien gets right inside the heads of her medieval characters!' JOANNA HICKSON 'A compelling tale of a family caught up in the turmoil of the Wars of the Roses… Be warned: it's dangerously addictive' TRACY BORMAN 'Magnificently researched… an enthralling story of strong women and advantageous marriages. I was completely hooked!' CLARE MARCHANT A beautifully researched novel told with understanding, subtlety and a deft touch. Time travel at its best' JOANNA COURTNEY England. 1469. A fortunate marriage will change history. A scandal could destroy everything… Margaret Paston, matriarch of the Paston family, knows that a favourable match for one of her unruly daughters is the only way to survive the loss of their recently acquired Caister Castle. But as the War of the Roses rages on, dangerous enemies will threaten even her best laid plans. Margery Paston, her eldest daughter, has always strived to uphold the Paston name and do her mother proud. But when she loses her heart to a man below her station, she must make a terrible choice: will she betray her family and risk everything for a chance at true love? Anne Haute, first cousin to the Queen, is embroiled in a longstanding betrothal to Sir John Paston, the eldest son and heir to the Paston seat. But despite his promises, Anne can't help but doubt that he will ever keep his word and make her his wife… In the midst of civil war, each of these women must decide: Head or heart? Love or duty? Reputation- or scandal?
An Observer Best Debut of the Year 'Hilarious and profound' Dolly Alderton, author of Everything I Know About Love 'Wildly funny and almost alarmingly relatable' Marian Keyes, author of Again, Rachel 'Hilarious, heart-warming, wise' Paula Hawkins, author of The Girl on the Train 'A rare and delicious treat. Monica Heisey is a genius' Nina Stibbe, author of Reasons to be Cheerful One of the most hotly anticipated, hilarious and addictive debut novels of 2023, from Schitt's Creek screenwriter and electric new voice in fiction, Monica Heisey. I feel like when you get a divorce everyone's wondering how you ruined it all, what made you so unbearable to be with.
If your husband dies, at least people feel bad for you. Maggie's marriage has ended just 608 days after it started, but she's fine – she's doing really good, actually. Sure, she's alone for the first time in her life, can't afford her rent and her obscure PhD is going nowhere .
. . but at the age of twenty-nine, Maggie is determined to embrace her new status as a Surprisingly Young Divorcee (TM).
Soon she's taking up 'sadness hobbies' and getting back out there, sex-wise, oversharing in the group chat and drinking with her high-intensity new divorced friend Amy. As Maggie throws herself headlong into the chaos of her first year of divorce, she finds herself questioning everything, including: Why do we still get married? Did I fail before I even got started? How many Night Burgers until I'm happy? Laugh-out-loud funny, razor sharp and painfully relatable, Really Good, Actually is an irresistible debut novel about the uncertainties of modern love, friendship and happiness from a stunning new voice in fiction, Monica Heisey. 'A smart, funny and warm debut with such a strong voice' Cathy Rentzenbrink, author of Everyone Is Still Alive 'Monica Heisey makes me laugh hard and often' Rob Delaney
'Briljant. Morgen en morgen en morgen is een van de beste boeken die ik ooit heb gelezen.' John Green Op een ijskoude dag in zijn eerste jaar op Harvard stapt Sam Masur uit de metro en ziet Sadie Green. Hij roept haar naam. Even doet ze alsof ze hem niet hoort maar dan draait ze zich om. Het is het begin van een legendarische samenwerking. Sam en Sadie zijn nog geen vijfentwintig, ze zijn briljant, succesvol en beroemd vanwege hun gamedesigns. Maar dit zal ze niet beschermen tegen hun ambities of tegen de liefde. Morgen en morgen en morgen is een opwindende en duizelingwekkende roman over vriendschap, beperking, creativiteit, en boven alles over onze behoefte aan verbinding: lief te hebben en geliefd te worden. Ja, dit is een liefdesverhaal, maar een zoals je nooit eerder hebt gelezen. 'Schitterend. Zevin heeft het boek geschreven waarvoor ze is geboren. Dit boek zal iedereen voor zich winnen die nog nooit een videogame heeft gespeeld, en zal een instant cult status krijgen bij degenen die dat wel hebben gedaan.' Kirkus, starred 'Een duizelingwekkende, epische roman over vriendschap.' Publisher's Weekly, starred 'Afwisselend grappig, ontroerend en soms hartverscheurend: dit boek heeft me omver geblazen.' Nathan Hill 'Een schitterende ode aan het leven, met al zijn rozentuinen en mijnvelden. Dit boek lezen is lachen, rouwen, leren en groeien.' Tayari Jones
In this sequel novella to Sorcery of Thorns, Elisabeth, Nathaniel, and Silas must unravel the magical trap keeping them inside Thorn Manor in time for their Midwinter Ball! Elisabeth Scrivener is finally settling into her new life with sorcerer Nathaniel Thorn. Now that their demon companion Silas has returned, so has scrutiny from nosy reporters hungry for gossip about the city's most powerful sorcerer and the librarian who stole his heart. But something strange is afoot at Thorn Manor: the estate's wards, which are meant to keep their home safe, are acting up and forcibly trapping the Manor's occupants inside. Surely it must be a coincidence that this happened just as Nathaniel and Elisabeth started getting closer to one another… With no access to the outside world, Elisabeth, Nathaniel, and Silas – along with their new maid Mercy – will have to work together to discover the source of the magic behind the malfunctioning wards before they're due to host the city's Midwinter Ball. Not an easy task when the house is filled with unexpected secrets, and all Elisabeth can think about is kissing Nathaniel in peace. But when it becomes clear that the house, influenced by the magic of Nathaniel's ancestors, requires a price for its obedience, Elisabeth and Nathaniel will have to lean on their connection like never before to set things right.
THE INSTANT NO. 1 SUNDAY TIMES BESTSELLER 'A wonderful, gritty, explosively violent, and beautifully realised debut' DAILY MAIL 'GODKILLER will have you in its grasp from the first pages' Samantha Shannon, bestselling author of PRIORY OF THE ORANGE TREE You are not welcome here, godkiller Kissen's family were killed by zealots of a fire god. Now, she makes a living killing gods, and enjoys it.
That is until she finds a god she cannot kill: Skedi, a god of white lies, has somehow bound himself to a young noble, and they are both on the run from unknown assassins. Joined by a disillusioned knight on a secret quest, they must travel to the ruined city of Blenraden, where the last of the wild gods reside, to each beg a favour. Pursued by demons, and in the midst of burgeoning civil war, they will all face a reckoning – something is rotting at the heart of their world, and only they can be the ones to stop it.
As usual, Andie Rose has a plan: Transfer from community college to the hyper competitive Blue Ridge State, major in psychology, and maintain her lifelong goal of becoming an iconic self-help figure despite the nerves that have recently thrown her for a loop. All it will take is ruthless organization, hard work, and her trademark unrelenting enthusiasm to pull it all together.
But the moment Andie arrives, the rest of her plans go off the rails. Her rocky relationship with her boyfriend Connor only gets more complicated when she discovers he transferred out of Blue Ridge to her community college. Her roommate Shay needs a major, and despite Andie's impressive track record of being The Fixer, she's stumped on how to help. And Milo, her coffee-guzzling grump of an R.A. with seafoam green eyes, is somehow disrupting all her ideas about love and relationships one sleep-deprived wisecrack at a time.
But sometimes, when all your plans are in rubble at your feet, you find out what you're made of. And when Andie starts to find the power of her voice as the anonymous Squire on the school's legendary pirate radio station–the same one her mom founded, years before she passed away–Andie learns that not all the best laid plans are necessarily the right ones.
Filled with a friend group that feels like family, an empowering journey of finding your own way, and a Just Kiss Already! romance, <i>Begin Again</i> is an unforgettable novel of love and starting again.
Deel 1 van de Koninkrijk der zonden-serie.
Emilia en haar tweelingzus Vittoria zin streghe – heksen die in het geheim tussen de mensen leven. Op een avond komt Vittoria niet voor haar dienst in het Siciliaanse restaurant van haar ouders opdagen en besluit Emilia op onderzoek uit te gaan. Het spoor brengt haar naar het plaatselijke klooster, waar ze haar zus dood aantreft, onvoorstelbaar toegetakeld. Verzwolgen door woede en verdriet besluit Emilia de moordenaar van haar zus te vinden en wraak te nemen. Zelfs als dat betekent dat ze de duisterste magie moet gebruiken, die volgens haar familie verboden is.
Dan ontmoet ze Toorn, een van de zeven Prinsen van Zonden uit de hel. Jarenlang heeft Emilia's grootmoeder haar via sprookjes gewaarschuwd voor deze machtige heersers uit de onderwereld. Maar Toorn beweert dat hij aan Emilia's kant staat. Ook hij is namelijk op zoek naar de moordenaar die verantwoordelijk is voor zowel de moord op Vittoria als de dood van twee andere vrouwen in Italië. Emilia besluit zijn hulp te accepteren… Voor nu, want als het op de Prinsen van Zonden aankomt, is niets wat het lijkt.
The first book in an epic fantasy series for fans of Sabaa Tahir, Hafsah Faizal and Elizabeth Lim, set in an Arabian-inspired land. Raised to protect her nation from the monsters lurking in the sands, seventeen-year-old Imani must fight to find her brother whose betrayal is now their greatest threat. In the hidden desert city of Qalia, secret spice magic awakens affinities in those who drink the misra tea. With an affinity for iron, seventeen-year-old Imani wields a dagger like no other warrior, garnering her the reputation as the next greatest Shield for battling the dangerous djinn, ghouls, and other monsters that lurk in the sands beyond city limits. Her reputation has been overshadowed, however, by her brother who tarnished the family name after he was discovered stealing their nation's coveted spice – a tell-tale sign of magical obsession. He disappeared soon after, believed to have died beyond the Forbidden Wastes, and leaving Imani reeling with both betrayal and grief. But when Imani uncovers evidence her brother may be alive and spreading their nation's magic beyond the desert, she strikes a deal with the Council to find him and bring him back to Qalia before he can reveal the city's location. Accompanied by Qayn, a roguish but handsome djinni, and Taha, a powerful beastseer whose magical talents are matched only by his arrogance, they set out on their mission. Imani will soon discover there are many secrets that lie beyond the Forbidden Wastes – and in her own heart – but will she find her brother before his betrayals endanger the fate of all of Qalia? In this epic and action-packed fantasy, one young heroine navigates the treacherous road between protecting the ones you love and staying loyal to the place you call home.
An #ownvoices debut rom com – a bisexual My Big Fat Greek WeddingFrom new best friend to girl of her dreams . . .
When Nar's boyfriend gets down on one knee and proposes to her a San Francisco bar, she realises it's time to find someone who shares her idea of romance. Enter her mother who wants Nar to settle down with a nice Armenia boy. Armed with a spreadsheet of Facebook-stalked men, she convinces Nar to attend 'Explore Armenia', a month-long festival of events in the city.
But it's not the parentally-approved playboy doctor or wealthy engineer who catches her eye – it's Erebuni, a cool and intriguing young woman fully intouch with her heritage. Suddenly, with Erebuni as her guide, the events feel like far less of a chore, and much more of an adventure. Erebuni helps Nar see the beauty of their shared culture and makes her feel understood in a way she never has before.
But there's one teeny problem: Nar's not exactly out as bisexual. A funny, heartfelt and deeply relatable rom com about family, cultural identity, queer love, and the process of self-discovery that continues into adulthood as identities evolve, all in a fresh, humorous voice. Praise for Sorry, Bro:'As I read [Sorry, Bro], I kept cackling out loud, I sometimes couldn't because I would be laughing so hard.
But underneath the humour is such an important story of love between two women and the journey to rediscovering Armenian culture and heritage.' – Jesse Q. Sutanto, author of Dial A for Aunties'Sorry Bro explores bisexuality, culture, and self-discovery through moments that will make you laugh out loud. This new writer brings a fresh take on self-identity, with a story that will capture both your heart and sense of humour.' – Diva Magazine'With this radiantly ravishing debut, Voskuni beautifully illustrates the courage it can take to be your own true self and risk everything for love.' – Booklist-Starred Review
Witty, haunting and kind, Under the Whispering Door is a gift for troubled times. TJ Klune brings us a warm hug of a story about a man who spent his life at the office – and his afterlife building a home. From the author of joyous New York Times bestseller The House in the Cerulean Sea.
Welcome to Charon's Crossing. The tea is hot, the scones are fresh and the dead are just passing through. When a reaper comes to collect Wallace from his own sparsely-attended funeral, Wallace is outraged.
But he begins to suspect she's right, and he is in fact dead. Then when Hugo, owner of a most peculiar tea shop, promises to help him cross over, Wallace reluctantly accepts the truth. Yet even in death, he refuses to abandon his life – even though Wallace spent all of it working, correcting colleagues and hectoring employees.
He'd had no time for frivolities like fun and friends. But as Wallace drinks tea with Hugo and talks to his customers, he wonders if he was missing something. The feeling grows as he shares jokes with the resident ghost, manifests embarrassing footwear and notices the stars.
So when he's given one week to pass through the door to the other side, Wallace sets about living a lifetime in just seven days. Fans of A Man Called Ove and The Good Place will fall for this queer love story by TJ Klune. Praise for TJ Klune:'I loved it.
It is like being wrapped up in a big gay blanket. Simply perfect' – V. E.
Schwab, no.1 New York Times bestselling author of The Invisible Life of Addie LaRue'A modern fairy tale about learning your true nature and what you love and will protect. It's a beautiful book' – Charlaine Harris, no.1 New York Times bestselling author'A whimsical, warm-hearted fantasy' – Guardian'Fans of queer fantasy won't want to miss this' – Publishers Weekly
'Honest to the bone, refreshing, and . . .
deliciously surprising' – Jodi PicoultAfter five years' marriage they're about to have their first date . . .
Eliza and Graham's marriage is quietly failing. With their five-year anniversary approaching, neither of them are thrilled about the weeklong getaway they've been gifted. The luxury retreat prides itself on being a destination for those in love and those looking to find it – but for Eliza and Graham it's the last place they want to be.
After a well-meaning guest mistakes Eliza and Graham as being single and introduces them at the hotel bar, they don't correct him. Suddenly, they're pretending to be perfect strangers and it's unexpectedly fun. Eliza and Graham find themselves flirting like it's their first date.
Everyone at the retreat can see the electric chemistry between Eliza and Graham's alter egos. But as their game continutes they realize this performance could be the very thing that saves their marriage . .
'A beautiful and profound retelling' – Madeline Miller, author of The Song of Achilles and Circe'Gives the serpent-headed monster of myth a powerful and haunting humanity' – Jennifer Saint, author of Ariadne and Elektra _________________If I told you that I'd killed a man with a glance, would you wait to hear the rest? The why, the how, what happened next?Monster. Man-hater. Murderess. Forget everything you've been told about Medusa. Internationally bestselling author Jessie Burton flips the script in this astonishing retelling of Greek myth, illuminating the woman behind the legend at last. Exiled to a far-flung island after being abused by powerful Gods, Medusa has little company other than the snakes that adorn her head instead of hair. Haunted by the memories of a life before everything was stolen from her, she has no choice but to make peace with her present: Medusa the Monster. But when the charmed and beautiful Perseus arrives on the island, her lonely existence is blown apart, unleashing desire, love… and betrayal. Adapted from the hardback illustrated by Olivia Lomenech-Gill, this paperback edition is perfect for readers who loved Circe and Ariadne, as Medusa comes alive in a new version of the story that history set in stone long ago. _________________'… a must-read for women of all ages' – Red magazine'Utterly transporting' – Guardian Books of the Year'… an impressive addition to the shelves of feminist retellings, balancing rage with beautiful storytelling' – Irish Times
'Grijs' is een allesbehalve zwart-wit verhaal over consent.
Na een avond dansen en flirten tijdens het laatste strandfeestje van de zomer, lopen Chaja en Wes samen de duinen in. Beiden houden echter een ander gevoel over aan wat er daar gebeurt. Wes is trots op zijn verovering, hoewel hij weleens betere seks heeft gehad. Chaja had iets heel anders voor ogen toen ze meeliep en geeft zichzelf er de schuld van dat ze Wes niet heeft gestopt. Wat is de impact van deze avond als ze elkaar weer zien op school?
Dit boek bevat mogelijk gevoelige onderwerpen: seksueel grensoverschrijdend gedrag.
'Grijs' maakt deel uit van de Blossom Books Shorties: korte, toegankelijk geschreven novelles voor jongeren. Andere boeken in de serie zijn: 'Het zusje van' (Carlie van Tongeren), 'De tweede stem' (Elin Meijnen) en 'Wees Lucie' (Astrid Boonstoppel).
Moving, passionate, and unforgettable, this novel from #1 New York Times bestselling author Colleen Hoover follows two young adults from completely different backgrounds embarking on a tentative romance, unaware of what the future holds. After a childhood filled with poverty and neglect, Beyah Grim finally has her hard-earned ticket out of Kentucky with a full ride to Penn State. But two months before she's finally free to change her life for the better, an unexpected death leaves her homeless and forced to spend the remainder of her summer in Texas with a father she barely knows.
Devastated and anxious for the summer to go by quickly, Beyah has no time or patience for Samson, the wealthy, brooding guy next door. Yet, the connection between them is too intense to ignore. But with their upcoming futures sending them to opposite ends of the country, the two decide to maintain only a casual summer fling.
Too bad neither has any idea that a rip current is about to drag both their hearts out to sea.
'Alizeh. De profetie van de djinn' is het eerste deel van een nieuwe, epische fantasyserie van bestsellerauteur Tahereh Mafi.
Alizeh is een onopvallende bediende. Niemand in Ardounia mag weten wie ze echt is: een djinn. Haar volk is vrijwel volledig uitgeroeid, ook haar ouders zijn vermoord. Sindsdien is ze haar leven niet zeker en houdt ze haar bovennatuurlijke krachten verborgen.
Maar dan maakt Alizeh een vergissing.
Kamran is de kleinzoon van koning Zaahl en de kroonprins van Ardounia. Hij weet dat er een profetie is gedaan over het lot van zijn grootvader: een demonachtig wezen met ijs in diens bloed zal hem doden. Kamran is vastbesloten om het monster te vinden en te stoppen, voordat de profetie in vervulling kan gaan.
Maar dan wordt hij verliefd op een bediende.
James and Cordelia must save London—and their marriage—in this thrilling and highly anticipated conclusion to the Last Hours series from the #1 New York Times and USA TODAY bestselling author Cassandra Clare. Chain of Thorns is a Shadowhunters novel. Cordelia Carstairs has lost everything that matters to her. In only a few short weeks, she has seen her father murdered, her plans to become parabatai with her best friend, Lucie, destroyed, and her marriage to James Herondale crumble before her eyes. Even worse, she is now bound to an ancient demon, Lilith, stripping her of her power as a Shadowhunter. After fleeing to Paris with Matthew Fairchild, Cordelia hopes to forget her sorrows in the city's glittering nightlife. But reality intrudes when shocking news comes from home: Tatiana Blackthorn has escaped the Adamant Citadel, and London is under new threat by the Prince of Hell, Belial. Cordelia returns to a London riven by chaos and dissent. The long-kept secret that Belial is James and Lucie's grandfather has been revealed by an unexpected enemy, and the Herondales find themselves under suspicion of dealings with demons. Cordelia longs to protect James but is torn between a love for James she has long believed hopeless, and the possibility of a new life with Matthew. Nor can her friends help—ripped apart by their own secrets, they seem destined to face what is coming alone. For time is short, and Belial's plan is about to crash into the Shadowhunters of London like a deadly wave, one that will separate Cordelia, Lucie, and the Merry Thieves from help of any kind. Left alone in a shadowy London, they must face Belial's deadly army. If Cordelia and her friends are going to save their city—and their families—they will have to muster their courage, swallow their pride, and trust one another again. For if they fail, they may lose everything—even their souls.
In a fallen kingdom, one girl carries the key to discovering the secrets of her nation's past—and unleashing the demons that sleep at its heart. An epic fantasy series inspired by the mythology and folklore of ancient China.
Once, Lan had a different name. Now she goes by the one the Elantian colonizers gave her when they invaded her kingdom, killed her mother, and outlawed her people's magic. She spends her nights as a songgirl in Haak'gong, a city transformed by the conquerors, and her days scavenging for what she can find of the past. Anything to understand the strange mark burned into her arm by her mother in her last act before she died.
The mark is mysterious—an untranslatable Hin character—and no one but Lan can see it. Until the night a boy appears at her teahouse and saves her life.
Zen is a practitioner—one of the fabled magicians of the Last Kingdom. Their magic was rumored to have been drawn from the demons they communed with. Magic believed to be long lost. Now it must be hidden from the Elantians at all costs.
When Zen comes across Lan, he recognizes what she is: a practitioner with a powerful ability hidden in the mark on her arm. He's never seen anything like it—but he knows that if there are answers, they lie deep in the pine forests and misty mountains of the Last Kingdom, with an order of practitioning masters planning to overthrow the Elantian regime.
Both Lan and Zen have secrets buried deep within—secrets they must hide from others, and secrets that they themselves have yet to discover. Fate has connected them, but their destiny remains unwritten. Both hold the power to liberate their land. And both hold the power to destroy the world.
Now the battle for the Last Kingdom begins.
Full of explosive magic, searing romance, and heartbreaking betrayal, These Infinite Threads is the breathtaking sequel to the instant New York Times and Sunday Times bestseller This Woven Kingdom
With the heat of a kiss, the walls between Alizeh, the long-lost heir to an ancient Jinn kingdom, and Kamran, the crown prince of the Ardunian empire, have crumbled. And so have both of their lives.
Kamran's grandfather, the king of Ardunia, lays dead, the terrible secret of his deal with the devil exposed to the world. Cyrus, the mysterious copper-haired royal, has stolen Alizeh away to Tulan, the neighboring kingdom where he rules. Cyrus has made his own deal with the devil—one that would require Alizeh to betray her feelings for Kamran if she's to reclaim the Jinn throne.
Alizeh wants nothing to do with Cyrus, or his deal with Iblees. But with no means of escaping Tulan, and with the tantalizing promise of fulfilling her destiny as the heir to the Jinn, she's forced to wonder whether she can set aside her emotions—and finally become the queen her people need.
Kamran, meanwhile, is picking up the pieces of his broken kingdom. Facing betrayal at every turn, all he knows for certain is that he must go to Tulan to avenge his grandfather. He can only hope that Alizeh will be waiting for him there—and that she's not yet become queen of Tulan.