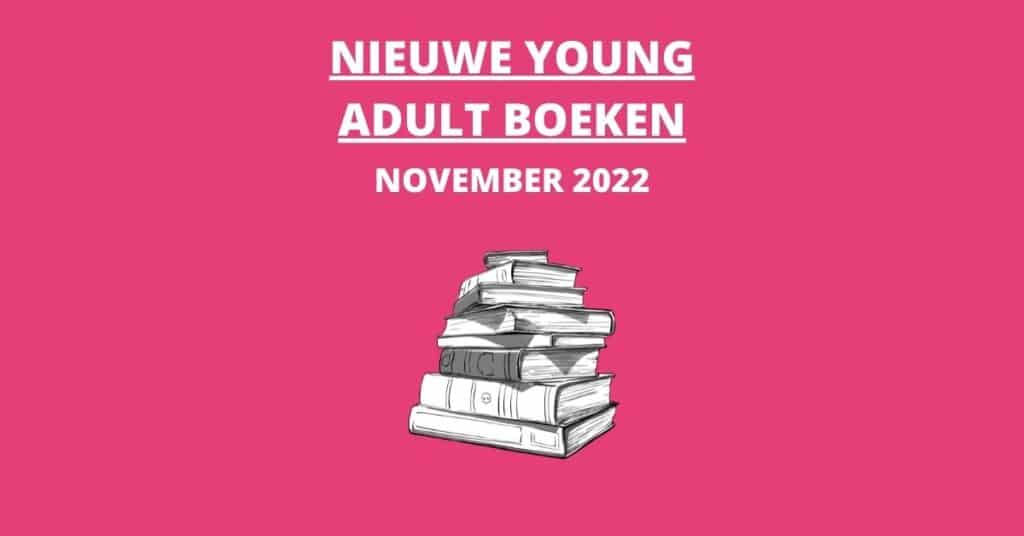 November, wat was je mooi! Er zijn een hele hoop mooie, nieuwe Young Adult boeken uitgekomen die aan jouw TBR-lijst toegevoegd moeten worden. Welke boeken van November missen we nog? Let us know!
Elke maand posten wij de nieuwe Young Adult boeken waar jij naar uit kan kijken. Naar welk boek kijk jij het meest uit?
A special Collector's Edition of the New York Times-bestselling Red, White & Royal Blue by Casey McQuiston featuring illustrated endpapers, sprayed edges, an all new Henry-POV chapter, and more!What happens when America's First Son falls in love with the Prince of Wales?Alex Claremont-Diaz is handsome, charismatic, a genius – pure millennial-marketing gold for the White House ever since his mother first became President of the United States. There's only one problem. When the tabloids get hold of a photo involving an altercation between Alex and Prince Henry, U.S./British relations take a turn for the worse. Heads of family and state devise a plan for damage control: stage a truce. But what begins as a fake, Instagrammable friendship grows deeper, and more dangerous, than either Alex or Henry could have imagined. Soon they are hurtling into a secret romance that could derail the presidential campaign and upend two nations. 'Red, White & Royal Blue is outrageously fun. It is romantic, sexy, witty, and thrilling. I loved every second.' – Taylor Jenkins Reid, New York Times bestselling author of Daisy Jones & The Six
<h3>Laatste deel over een koninklijke paardenwereld vol intriges en geheimen</h3>
Toen Grace ontdekte dat Edward eigenlijk prins Tristan was, stond ze voor een keuze. En ze heeft een besluit genomen. Voor hem. Maar nu staat hun liefde voor de allerbelangrijkste beproeving… Ze wilde nooit een prinses zijn. En toch zijn alle camera's op haar gericht en wordt elke stap die ze naast Edward zet nauwlettend in de gaten gehouden. Ze realiseert zich al snel dat het glamoureuze leven van het koningshuis alles verandert: haar relatie met Edward, maar ook haarzelf. Te midden van alle schandalen en intriges kan Grace alleen bij de paarden haar toevlucht vinden. En terwijl Edward zijn rol als prins steeds serieuzer moet nemen, twijfelt Grace. Is ze echt bereid om haar eigen dromen op te geven voor de liefde?
The shadows have risen, and the line is law.
All Bree wanted was to uncover the truth behind her mother's death. So she infiltrated the Legendborn Order, a secret society descended from King Arthur's knights—only to discover her own ancestral power. Now, Bree has become someone new:
A Medium. A Bloodcrafter. A Scion.
But the ancient war between demons and the Order is rising to a deadly peak. And Nick, the Legendborn boy Bree fell in love with, has been kidnapped.
Bree wants to fight, but the Regents who rule the Order won't let her. To them, she is an unknown girl with unheard-of power, and as the living anchor for the spell that preserves the Legendborn cycle, she must be protected.
When the Regents reveal they will do whatever it takes to hide the war, Bree and her friends must go on the run to rescue Nick themselves. But enemies are everywhere, Bree's powers are unpredictable and dangerous, and she can't escape her growing attraction to Selwyn, the mage sworn to protect Nick until death.
If Bree has any hope of saving herself and the people she loves, she must learn to control her powers from the ancestors who wielded them first—without losing herself in the process.
Monster. Butcher. Bloodwinn. Ranka is tired of death. All she wants now is to be left alone, living out her days in Witchik's wild north with the coven that raised her, attempting to forget the horrors of her past. But when she is named Bloodwinn, the next treaty bride to the human kingdom of Isodal, her coven sends her south with a single directive: kill him. Easy enough, for a blood-witch whose magic compels her to kill. Except the prince is gentle, kind, and terrified of her. He doesn't want to marry Ranka; he doesn't want to be king at all. And it's his sister—the wickedly smart, infuriatingly beautiful Princess Aramis—who seems to be the real threat. But when witches start turning up dead, murdered by a mysterious, magical plague, Aramis makes Ranka an offer: help her develop a cure, and in return, she'll help Ranka learn to contain her deadly magic. As the coup draws nearer and the plague spreads, Ranka is forced to question everything she thought she knew about her power, her past, and who she's meant to fight for. Soon, she will have to decide between the coven that raised her and the princess who sees beyond the monster they shaped her to be. But as the bodies pile up, a monster may be exactly what they need.
Limited Collector's Edition met Sprayed Edges. In Cursed, Marissa Meyer brings the fairytale-inspired Gilded duology to a conclusion.. Be still now, and I will tell you a tale. Adalheid Castle is in chaos. Following a shocking turn of events, Serilda finds herself ensnared in a deadly game of make-believe with the Erlking, who is determined to propel her deeper into the castle's lies. Meanwhile, Serilda is determined to work with Gild to help him solve the mystery of his forgotten name and past. But soon it becomes clear that the Erlking doesn't only want to use Serilda to bring back his one true love. He also seeks vengeance against the seven gods who have long trapped the Dark Ones behind the veil. If the Erlking succeeds, it could change the mortal realm forever. Can Serilda find a way to use her storytelling gifts for good—once and for all? And can Serilda and Gild break the spells that tether their spirits to the castle before the Endless Moon finds them truly cursed?
Rainbow Rowell has won fans all over the world by writing about love and life in a way that feels true.
In her first collection, she gives us nine beautifully crafted love stories. Girl meets boy camping outside a movie theater. Best friends debate the merits of high school dances. A prince romances a troll. A girl romances an imaginary boy. And Simon Snow himself returns for a holiday adventure.
It's a feast of irresistible characters, hilarious dialogue, and masterful storytelling—in short, everything you'd expect from a Rainbow Rowell book.
"HET IS TIJD OM DE MASKERS AF TE ZETTEN. IN DEZE WERELD VAN VUUR EN VERRAAD IS ER GEEN PLEK VOOR LEUGENS." Zaya, de uit de gratie gevallen gifgenoot, en Asper, de beenderbezweerder zonder beenderband, zitten nog steeds opgesloten in het Gifpaleis. Het lijkt een onmogelijke taak om aan de gifgenoten te ontsnappen, die er klaar voor zijn om de beenderbezweerders genadeloos op te jagen. Met moeite klampen beide gevangenen zich vast aan hun laatste sprankje hoop – Vogel. Maar is hun vreemde bondgenootschap wel sterk genoeg om deze beproevingen te doorstaan? Ondertussen werkt Saran zijn snode plannen verder uit. Na de dood van Cora zit er voor hem niets anders op dan zijn reis in het duister verder te zetten. Om de waarheid over Aurea aan het licht te brengen, deinst Saran nergens meer voor terug.
After her perilous quest to free her mother, Xingyin thrives once more in the tranquility of her home. But her fragile peace is threatened by the discovery of a strange magic on the moon and the unsettling changes in the Celestial Kingdom as the emperor tightens his grip on power. While Xingyin is determined to keep clear of the rising danger, the discovery of a shocking truth spurs her into a treacherous confrontation. Forced to flee her home once more, Xingyin and her companions venture to unexplored lands of the Immortal Realm, encountering legendary creatures and shrewd monarchs, beloved friends and bitter adversaries. With alliances shifting quicker than the tides, Xingyin has to overcome past grudges and enmities to forge a new path forward, seeking aid where she never imagined she would. As an unspeakable terror sweeps across the realm, Xingyin must uncover the truth of her heart and claw her way through devastation–to rise against this evil before it destroys everything she holds dear, and the worlds she has grown to love… even if doing so demands the greatest price of all. The stunning sequel to Daughter of the Moon Goddess delves deeper into beloved Chinese mythology, concluding the epic story of Xingyin–the daughter of Chang'e and the mortal archer, Houyi–as she battles a grave new threat to the realm, in this powerful tale of love, sacrifice, and hope.
The New York Times bestselling Arc of the Scythe series continues with thrilling stories that span the timeline. Storylines continue. Origin stories are revealed. And new Scythes emerge! There are still countless tales of the Scythedom to tell. Centuries passed between the Thunderhead cradling humanity and Scythe Goddard trying to turn it upside down. For years humans lived in a world without hunger, disease, or death with Scythes as the living instruments of population control. Neal Shusterman—along with collaborators David Yoon, Jarrod Shusterman, Sofía Lapuente, Michael H. Payne, Michelle Knowlden, and Joelle Shusterman—returns to the world throughout the timeline of the Arc of a Scythe series. Discover secrets and histories of characters you've followed for three volumes and meet new heroes, new foes, and some figures in between. Gleanings shows just how expansive, terrifying, and thrilling the world that began with the Printz Honor–winning Scythe truly is.
Eighteen passengers. Seven stops. One killer. In the early hours of Christmas Eve, the sleeper train to the Highlands is derailed, along with the festive plans of its travellers. With the train stuck in snow in the middle of nowhere, a killer stalks its carriages, picking off passengers one by one. Those who sleep on the sleeper train may never wake again. Can former Met detective Roz Parker find the killer before they kill again?
De Grishaverse wordt uitgebreid met een graphic novel! In 'De jongen uit het woud' leer je de Duisterling kennen voordat hij de Schaduwvlakte creëerde en hij de leider van Ravka's Tweede Leger werd. Dit boek is een prequel op de Grishaverse en speelt zich vóór 'Schim en Schaduw' af. Eryk is samen met zijn moeder al zijn hele leven op de vlucht, want ze zijn de gevaarlijkste en zeldzaamste Grisha die er bestaan. Ze worden opgejaagd door degenen die hen willen vernietigen, of juist in hun macht willen krijgen. Hun Grisha-gave moeten ze dus koste wat het kost verbergen. Maar dat blijkt zelfs na jaren oefening ontzettend ingewikkeld, en soms zelfs dodelijk.
Alice Sun has always felt invisible at her elite Beijing international boarding school, where she's the only scholarship student among China's most rich and influential teens. But then she starts uncontrollably turning invisible—actually invisible. When her parents drop the news that they can no longer afford her tuition, even with the scholarship, Alice hatches a plan to monetize her strange new power—she'll discover the scandalous secrets her classmates want to know, for a price. But as the tasks escalate from petty scandals to actual crimes, Alice must decide if it's worth losing her conscience—or even her life. In this genre-bending YA debut, a Chinese American girl monetizes her strange new invisibility powers by discovering and selling her wealthy classmates' most scandalous secrets.
Hartverwarmende winterliefdes
Vlak voor kerstmis is Atlanta bedekt onder een dikke laag sneeuw. Maar de warmte van ontluikende liefde zou het ijs weleens kunnen laten smelten in deze onderling verbonden verhalen, vol vreugde en sprankelende romantiek. Terwijl de stad bevriest, helpen twaalf tieners een vriendin de meest epische verontschuldiging van haar leven aan te bieden. Krijgen ze dat wel voor elkaar tijdens zo'n sneeuwstorm? Niemand is voorbereid op deze whiteout. Maar misschien kun je je ook niet voorbereiden op die magische momenten die alles veranderen… Topauteurs Nicola Yoon, Angie Thomas, Nic Stone, Dhonielle Clayton, Tiffany D. Jackson en Ashley Woodfolk sloegen na Blackout opnieuw de handen ineen en schreven samen een roman over zwarte tienerliefde, waarin alle relaties zo uniek en sprankelend zijn als sneeuwvlokken.
De Grishaverse wordt uitgebreid met een graphic novel! In 'De jongen uit het woud' leer je de Duisterling kennen voordat hij de Schaduwvlakte creëerde en hij de leider van Ravka's Tweede Leger werd. Dit boek is een prequel op de Grishaverse en speelt zich vóór 'Schim en Schaduw' af. Eryk is samen met zijn moeder al zijn hele leven op de vlucht, want ze zijn de gevaarlijkste en zeldzaamste Grisha die er bestaan. Ze worden opgejaagd door degenen die hen willen vernietigen, of juist in hun macht willen krijgen. Hun Grisha-gave moeten ze dus koste wat het kost verbergen. Maar dat blijkt zelfs na jaren oefening ontzettend ingewikkeld, en soms zelfs dodelijk.
The year is 414 of the Xin Dynasty, and chaos abounds. A puppet empress is on the throne. The realm has fractured into three factions and three warlordesses hoping to claim the continent for themselves. But Zephyr knows it's no contest. Orphaned at a young age, Zephyr took control of her fate by becoming the best strategist of the land and serving under Xin Ren, a warlordess whose loyalty to the empress is double-edged—while Ren's honor draws Zephyr to her cause, it also jeopardizes their survival in a war where one must betray or be betrayed. When Zephyr is forced to infiltrate an enemy camp to keep Ren's followers from being slaughtered, she encounters the enigmatic Crow, an opposing strategist who is finally her match. But there are more enemies than one—and not all of them are human. An epic YA fantasy about found family, rivals, and identity, from New York Times and Indie bestselling author Joan He, inspired by Three Kingdoms, one of the Four Classics of Chinese Literature.
De 1e druk van Maxton Hall College verschijnt in een prachtige editie met bedrukt boekblok in de stijl van het populaire Dark Academia-thema.
Deel 1 van de Maxton Hall-serie.
Geld, glamour, luxe en macht – de vier kwaliteiten die de dienst uitmaken op Maxton Hall College en vier kwaliteiten die Ruby Bell niet bezit. Maxton Hall is een van de duurste, meest gerenommeerde privéscholen van Engeland en Ruby weet donders goed dat ze niet thuishoort tussen haar elitaire medestudenten. de klassieke Maxton Hall-student is een nazaat van een eeuwenoud adellijk geslacht, van invloedrijke politici of van grootheden uit de zakenwereld, geen doodgewoon meisje met een studiebeurs. Daarom wil Ruby maar één ding: zo snel mogelijk afstuderen en in de tussentijd zo min mogelijk opvallen.
Ruby brengt vrijwel al haar tijd door in de eeuwenoude bibliotheek, met haar neus diep in de stoffige, in leer gebonden boeken. Op veilige afstand van iedereen en bovenal van de schatrijke James Beaufort, de onofficiële leider van het college. Maar dan ontdekt Ruby iets wat niemand anders weet – een geheim dat desastreus zou kunnen zin voor de reputatie van de familie Beaufort. Voor ze het weet bevindt ze zich precies daar waar ze nooit wilde zijn: diep in het verraderlijke web van Maxton Hall. Komt ze hier weer ongeschonden uit?
Moderne sprookjes: hilarisch en vlijmscherp
Doornroosje, Assepoester, De kleine zeemeermin, Sneeuwwitje… allemaal sprookjes die al jarenlang verteld worden, maar waarin de vrouw elke keer een hulpeloos leven lijdt en wacht tot de magische prins haar komt redden. Auteurs Laura Lane (van o.a. de podcast This Is Why You're Single) en Ellen Haun (bekend van How to Get Away With Murder) besloten dat het tijd was voor moderne varianten. In deze hilarische, vlijmscherpe versies worden alle vrouwen de held van hun eigen verhaal. Zo beklimt Mulan de rangen van het leger om vervolgens de strijd aan te gaan over haar ongelijke salaris. Wendy leert dat ze nooit een man-boy moet vertrouwen die haar stalkt en de prins van Doornroosje krijgt een lesje in consent ('Maar ze slaapt,' zei hij. 'Je probeert iemand te zoenen die slaapt?'). Een heerlijk cadeau voor iedereen die zin heeft om eens wat andere sprookjes te lezen dan die ons altijd geleerd zijn.